PROGRAM
Year 2020-21
(last updated Thursday, 01 July 2021)
.
D / Demo= Demonstration
C / Comp = Competition
Meetings on the 3rd Thursday of each month unless specified.
Program subject to change.
---
PAUL's CHALLENGE
Now that the weather has warmed your workshops up a bit it's time to get the tools out for the next challenge.
Bowl within a Bowl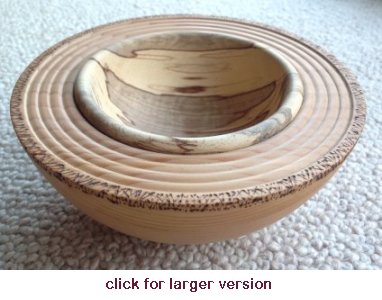 It can simply be made from two contrasting pieces of wood or you can use your artistic skills to maybe colour, texture, pyrograph, carve etc the outer skin and leave the inner one plain.
It can have a foot or not, you decide; or it could be mounted on a separate base/plinth of another material entirely.
The main idea is that it is much lighter than its apparent volume suggests.
This is done by making the outer bowl quite thin leaving a void between the two pieces. The inner bowl can just sit in a hole in the outer one or (as I chose to do in the pictures) be recessed in a bit.
The hollowing of the outer bowl can be done with anything sharp. It does not have to be perfect as no one will see it and no sanding required either.
My example shows the assembled piece with a pyrographed border as I felt that it needed something to frame the whole thing.
Size wise don't be too ambitious, 6-7 " diameter is probably the maximum that I would suggest so that the depth to width is easier to achieve.
A hemisphere works well but try other shapes and proportions. A very wide decorated rim with a small contrasting centre would look great in the right timbers for example.
So there you are, give it a go and send a photo to Rick at

for display on the < PAUL's CHALLENGE > webpage.

---
'MARKETPLACE' WEBPAGE
From time to time, the Club receives items offered for sale.
When it does, the 'Marketplace' button will appear in the TOP FRAME.
(in lieu of the

, which are still selectable via the Competitions page.)
Clicking the 'Marketplace' button will bring up full details but meanwhile, the following have been listed :-
❶ August 2020 : Various sizes of Thread Chaser pairs from Paul.
---
CONGRATULATIONS to Andy Ogilvie
Andy has won a competition with the prestigious Society of Ornamental Turners at his first attempt with his 'Gada' (ornamental mace), This is all the more remarkable as he has only just started getting to grips with the Holtzapffel lathe and cutters etc.
A brilliant achievement - well done Andy.
We have a photo of the piece on the Corona Page <HERE>.


---
Mar 2021 : A Message from the Committee.
It has been drawn to our attention that the Club's public liability insurance arranged through the AWGB (the national woodturners association), specifically states that it does NOT cover any Covid-19 related incidents. This obviously leaves all Committee Members completely exposed should any litigation take place. Sadly, losing everything we have in a compensation claim is not something any of us wish to risk. Consequently, we feel we cannot resume meetings until this issue is resolved.
We propose postponing our reopening until September (provisionally) in order to give time for a solution to be found. All clubs are in the same position as you can appreciate.
We will keep you posted when we know more.
Feb 2021 : A Message from John Bolt and the Committee.
Hello everyone. I hope that you have all kept safe and well during this terrible time and that everybody will soon have their vaccination, if they have not already. It does give a slight confidence that the future may look a bit brighter.
It was decided last August that our meetings would be suspended with a review in January and back then, things were looking promising to commence early in the New Year. Obviously, things did not go as planned and it is now decided that another review should take place around Easter time when, hopefully, prospects will look a bit brighter.
We have kept the Corona Page going on the website and it is good to see that Members have had the time to make things and submitted them. It would be nice to see even more contributions as I am certain that a lot more things have been made during this time.
It has been suggested that Members might contribute to the website by offering 'Workshop Tips' that they have picked up along the way to make things easier or better for their turning. However small, it may solve a problem that others might struggle with.
There are numerous demonstrations that can be viewed on the web, which can keep your interest going if you are missing the demonstrations at our meetings. Among them are those which have been sponsored by Record and shown around the world. Les Thorne and Martin Saben Smith have teamed up to produce live demonstrations via Zoom from < www.thewoodturningshop.com >.
I am hoping that when we can resume our meetings, your enthusiasm for woodturning is still as great and that once again we can fill the hall with happy faces as before.
Stay safe and well and I look forward to seeing you all again in the near future.
---
Dec 2020 : This is a Message from the Committee to wish all of our Members a very Happy Christmas, in spite of the Government restrictions on family gatherings, and hopefully a much happier New Year than this has been.
Most of us are in the older age group, and we hopefully have all managed to stay healthy throughout this difficult time.
It has been good to see how much turning has been achieved and how much of it has been displayed on our excellent website.
To summarise the year :-
● The AGM could not be held, and therefore no election of officers nor any cups presented, (although the decision had been made on who should receive them);
● The election of officers was performed on line with 30 members submitting their votes;
● The committee consists of John Bolt as Chairman, Paul Reeves as Deputy Chairman, Clive Potter as Treasurer, Trevor Elliott as Secretary, Greta Reeves, Graham Turner, Ian Wright, Rick Patrick and Vic Russell. These were proposed by Richard Slee, and seconded by Tony Perry;
● The annual wood sale was held at Paulís house with appropriate social distancing being observed and proved to be very successful.
Stay safe everybody, and hopefully we will all be able to meet again in the near future.
Following a Committee Meeting on 26th August that despite the MWCC preparing ways & means for the Community Centre users to consider restarting activities, it was decided that considering the current uncertainty of Covid 19 infection rates over the Autumn & Winter months, it would be prudent to delay any restart of Club Meetings although this decision would be reconsidered with a possible restart in January 2021.
Consequently, all Thursday's Meeting at the Mudeford Wood Community Centre remain cancelled until further notice.
Rather than Members being left alone during the current crisis, the Committee proposed that we have a webpage to show/discuss work that members have been doing while in 'isolation'.
The idea is to :
show work for appreciating (or if requested, for appraisal),
ask for advice on how to achieve something or
just to pass along some comment / humour.
Use the email hyperlink below for the webmaster to process.


Click

to access Members' contributions
If anyone needs some wood, please email Paul here

or
telephone on the number listed on your Membership Card.
---
Trading Post purchases for CSW Members while Government Coronavirus conditions are in force.
Use the email link below to request what you would like;
I'll reply with whether we have it in stock and the price;
We'll mutually arrange a pick-up point & time.

Rick Patrick