PROGRAM
Year 2020-21
(last updated Tuesday, 29 September 2020)
.
D / Demo= Demonstration
C / Comp = Competition
Meetings on the 3rd Thursday of each month unless specified.
Program subject to change.
| | | |
| --- | --- | --- |
| 16th Apr 2020 | D1 - Boxes | |
| 21st May | C1 - Boxes | Demo : Balls made from various jigs |
| 18th Jun | D2 - Goblets | |
| Sat, 20th Jun | Everton Festival | Club tent |
| 16th Jul | C2 - Goblets | Demo : Platters |
| Sat, 11th Jul | Club BBQ | 6pm at Bill Peach's home |
| w/e 25-26th Jul | Wood Sale | at Vice Chair's home |
| Sat, 8th Aug | Ellingham Show | Club tent |
| 20th Aug | D3 - Finials | |
| 17th Sep | C3 - Finials | 'Turn & Swap' concept; Demo : Pens |
| 15th Oct | D4 - Laminated Wood | 'Turn & Swap' |
| 19th Nov | C4 - Laminated Wood | 'Turn & Swap'; Workshop: Xmas Decs |
| 17th Dec | Demo - Puzzles & Tricks | Xmas Party |
| 16th Jan 2021 | D5 - 2-part Hollow Form | |
| 20th Feb | C5 - 2-part Hollow Form | |
| 19th Mar | AGM | Presentation of trophies + Wood Sale |
---
PAUL's CHALLENGE
The challenge for this month is
A Decorated Napkin Ring
Suggested dimensions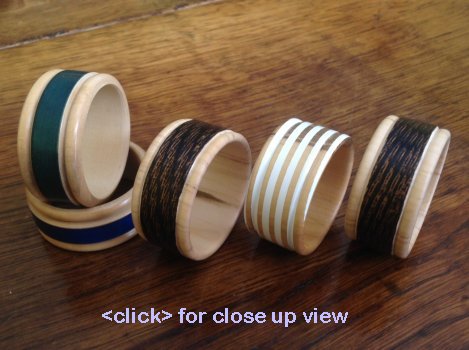 :- 30mm diameter bore. 20-25mm width of band.
Ideal project for the branch wood that everyone is given/ keeps and doesn't know what to do with. Taking out the centre of the ring removes the problems usually caused by including the pith.
NB - Be wary of selecting cross-grain wood as you will end up with two opposite areas of short end grain that will be significantly weaker than the rest of the ring; also to texture/decorate the variation from end to side grain would be difficult to achieve evenly.
The coloured ones were done with a felt tip pen with the ring rotating.
The white spiral (click for close up) was cut with a 6tpi thread chaser at 250rpm and then filled with superfine white Milliput epoxy putty.
It could be interesting to play with left and right hand threads using different colours and cutting one over the top of the other. (With care, a left hand thread can be cut with a right hand chaser)
The black and gold (click for close up) was made by spraying a prepared cylinder with black ebonising lacquer and then cutting the pattern through the colour with a 2" prickly carbide carving disc. Both the cylinder and the carving disc were under power and the carver then drawn along the rotating cylinder to create the scratch pattern. The scratches were then filled with gold wax, cleaned up and acrylic lacquer applied.

Both of these methods can be used to create multiple rings.
If the original cylinder is 125mm long then four similar rings can be made.
The centre can either be drilled or turned out (care should be taken to keep it parallel when turning out) and parted off to give the required width.
A simple jam chuck (spigot) enables you to shape and finish both edges equally.
For those of you that have bought the Jo Sonya iridescent paints, or similar, and never used them, this could be the project to get them out and have a play!!!!
This is an ideal small project to try out different colouring and texturing ideas as the small area is large enough to get the effect but small enough that it doesn't take hours to complete.
When you have finished, remember to send a photo to Rick Patrick at

for display on the < PAUL's CHALLENGE > webpage.

---
NEW 'MARKETPLACE' WEBPAGE
From time to time, the Club receives items offered for sale.
When it does, the 'Marketplace' button will appear in the TOP FRAME.
(in lieu of the

, which are still selectable via the Competitions page.)
Clicking the 'Marketplace' button will bring up full details but meanwhile, the following have been listed :-
❶ July 2020 : A Coronet Minor lathe with a full set of accessories plus 4 chucks, 30 tools, wood blanks and other extras for a knock down price of £150.
The seller is a past Member from 10 years ago, who has a need to downsize.
❸ August 2020 : Various sizes of Thread Chaser pairs from Paul.
---
CLUB WOOD SALE - Sat & Sun 25th to 26th July (10am to 4pm)
As we all missed the regular AGM wood sale in March and stock from fallen timber that had been planked & band-sawed was starting to overflow, Paul & Greta set up their gazebos in the back garden for some socially distanced shopping.
Saturday saw some 15 Members visit within the first 90 minutes to go through spindle, bowl and wooden handle blanks from American Plane to Yew with about a dozen other varieties in between. Several had to reverse their cars closer in order to carry away their spoils.
Saturday afternoon's heavy rain kept visitors to 3 while the dry but windy Sunday saw about 10 Members in all.
It was a very successful event for restocking one's wood blanks, refreshing superglue, abrasives etc from Trading Post and to catch up with colleagues in a safe, open air environment.


---
NEW
Following a Committee Meeting on 26th August that despite the MWCC preparing ways & means for the Community Centre users to consider restarting activities, it was decided that considering the current uncertainty of Covid 19 infection rates over the Autumn & Winter months, it would be prudent to delay any restart of Club Meetings although this decision would be reconsidered with a possible restart in January 2021.
Consequently, all Thursday's Meeting at the Mudeford Wood Community Centre remain cancelled until further notice.
Rather than Members being left alone during the current crisis, the Committee proposed that we have a webpage to show/discuss work that members have been doing while in 'isolation'.
The idea is to :
show work for appreciating (or if requested, for appraisal),
ask for advice on how to achieve something or
just to pass along some comment / humour.
Use the email hyperlink below for the webmaster to process.


Click

to access Members' contributions
If anyone needs some wood, please email Paul here

or
telephone on the number listed on your Membership Card.
---
Trading Post purchases for CSW Members while Government Coronavirus conditions are in force.
Use the email link below to request what you would like;
I'll reply with whether we have it in stock and the price;
We'll mutually arrange a pick-up point & time.

Rick Patrick