January 2022 - Comp 4
Box of Contrasting Woods
TABLE A
Remarks : Paul's double ended box's support took longer to produce than the box itself; Andy's Rosewood box benefitted from embellishments made on his Ornamental Lathe; Vic's new tool makes another spectacularly sharp finish on his inlaid Yew lid plus a good fit; Trevor produced an elegantly proportioned finial for his Elm and Padauk box; Bill's eye-catching box body was achieved with a tenon saw; and a colourful selection of Pear, Laburnum & Ash for David's piece.
TABLE B
Remarks : Nigel's Oak & Lignum Vitae box demonstrated the problem with turning old bowling balls - they tend to be riddled with internal cracks.
---
January 2022 - Appraisal Table
with Paul Reeves
(click any below for close up view)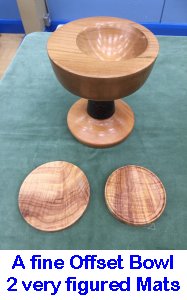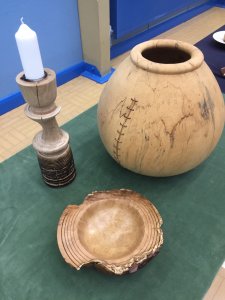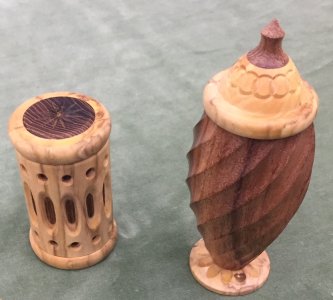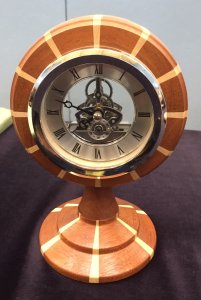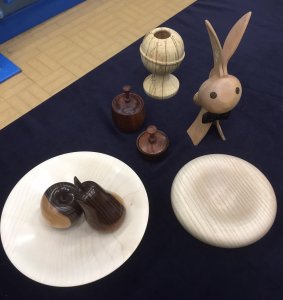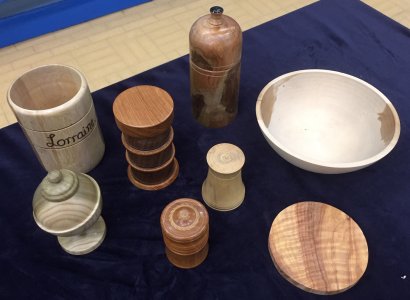 (click any above for close up view)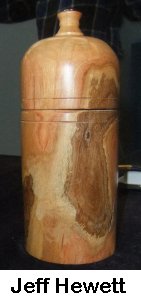 ---
December 2021 - Comp 3
Offset Turned Bowls
TABLE A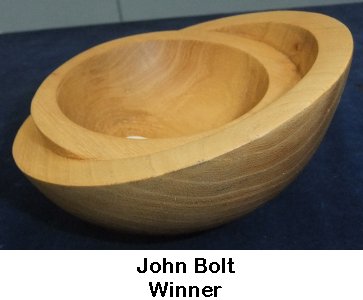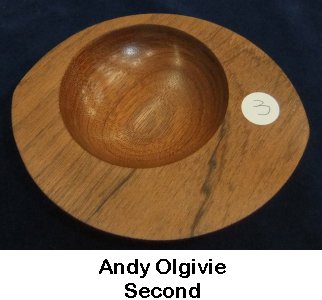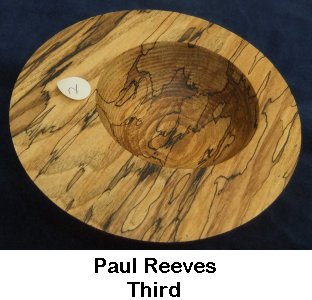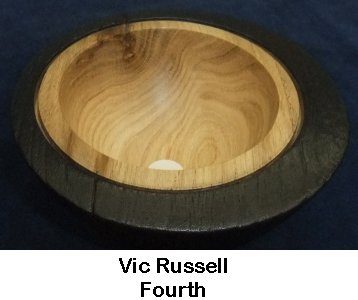 TABLE B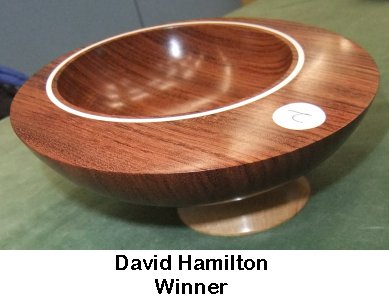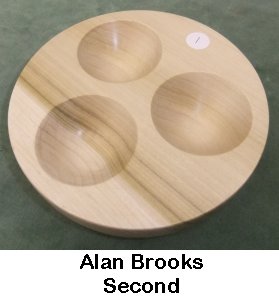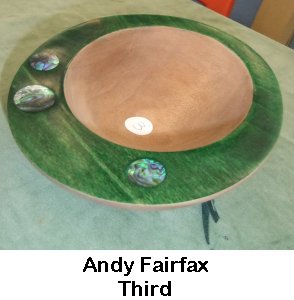 Remarks : David Hamilton's piece had its own foot attached rather than relying upon a plate stand or doughnut; Alan Brook's was of Tulip Wood with an attractive coloured grain incorporated into a recess; Andrew Fairfax's had a matt finish effect using Lemon Oil.
---
December 2021 - Appraisal Table
with Paul Reeves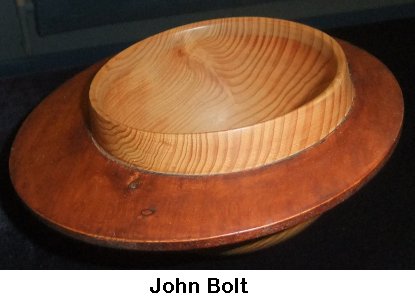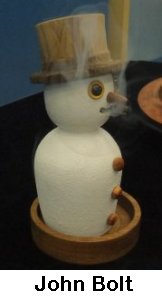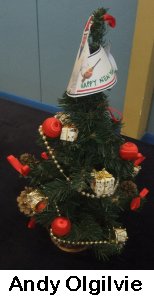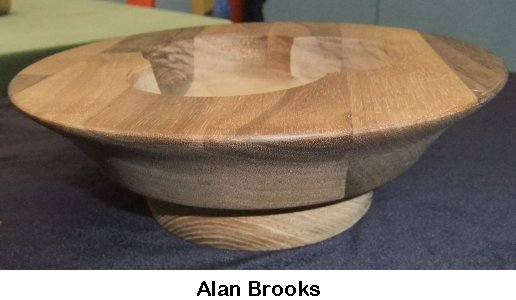 Remarks : The realistic looking snow of John Bolt's Smokin' Snowy was achieved with a coat of exterior textured paint; Alan Brooks piece was made from a segmented Walnut worktop off cut which can be difficult to work.
---
November 2021 - Comp 2
Plates & Platters
TABLE A
Remarks : Joint Winner Bill Gibson turned a double sided platter hence the two photos; Paul's demonstration piece was finished by continuing his spectacular decoration; Vic Russell's had a beautiful crisp and intricate border; Nick & Trevor made different uses of Milliput; Andy produced intricate decoration with perfectly graduated circles spaced precisely between the two offset outer edges.
TABLE B
Remarks : Andrew Fairfax's winning platter was clearly a labour of love; Al Brooks' darkened piece was achieved by encapsulating it in a container of Ammonia for many many hours.
---
November 2021 - Appraisal Table
with Paul Reeves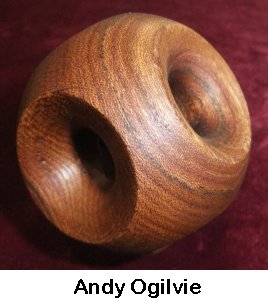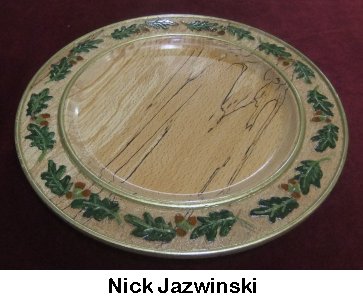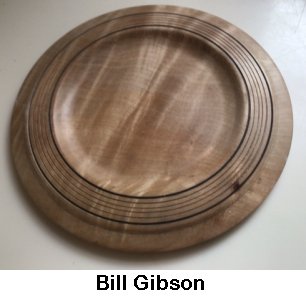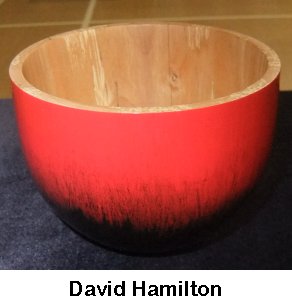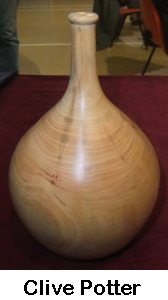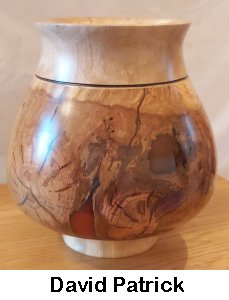 After several examples of cubes with holes in every face, Andy went a step further with a sphere;
Nick's embossed oak leaves were accomplished by stippling back the surrounding rim with a Dremel;
Bill's platter shows off a distinct 'chatoyant'

(cats eye) ripple figure so he fittingly kept his decoration minimal;
David H's Japanese lacquered effect was produced by applying the two acrylic colours roughly level and then dry brushing the red down over the black and then finished with dry brushing the black upwards with another clean brush;
Clive's hollow form seemed impossible with no apparent join below the neck, but was in fact hollowed out from underneath with a cunningly disguised base;
Having rescued a knurled old Cherry crown holding down a corner of a tarpaulin for more than a year, David P found its crevasses so deep after removing its dirt & bark that perhaps a red resin was the answer for a whole bowl. He said it was a joy to turn something visually pleasing and useful from a lump of rubbish.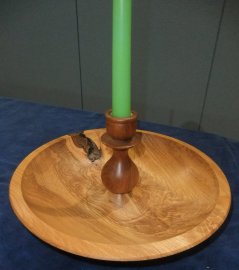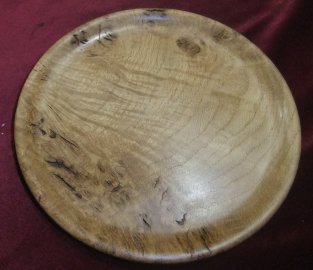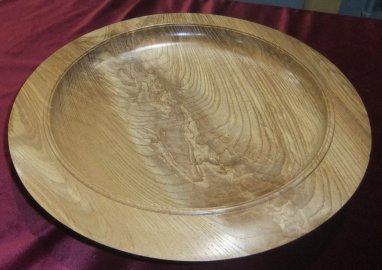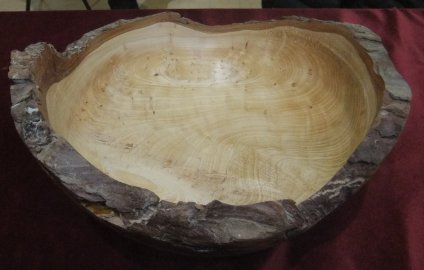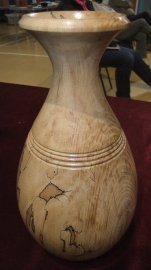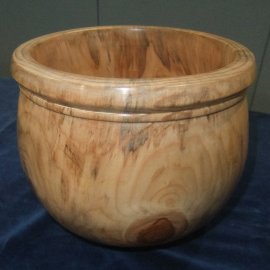 ---
Turned piece(s) of small functional wooden household objects.
TABLE A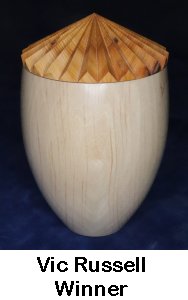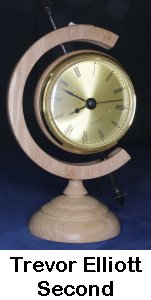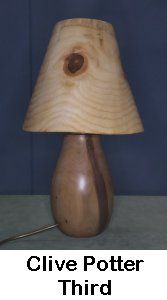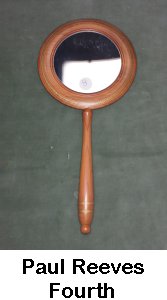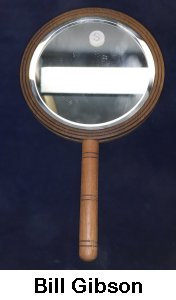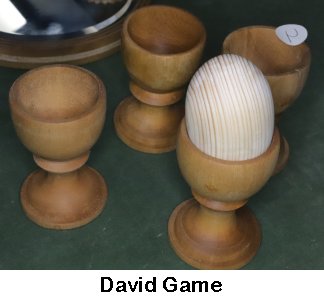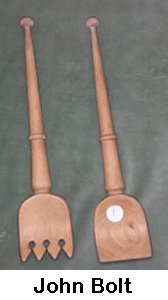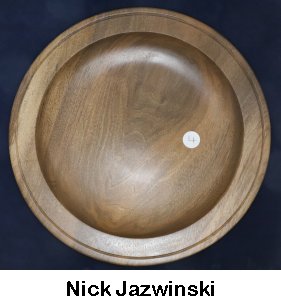 Remarks : Clive Potter's lampshade had the unusual but stylish property of a round top and a square-ish base. A fortunate result of turning green Monkey Puzzle to a thin layer.
TABLE B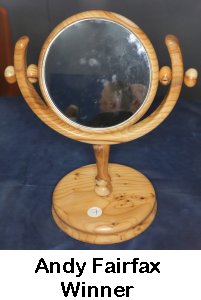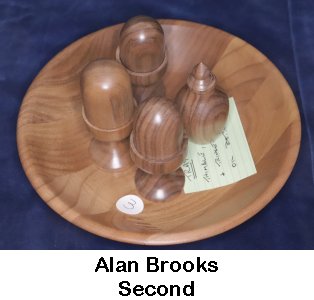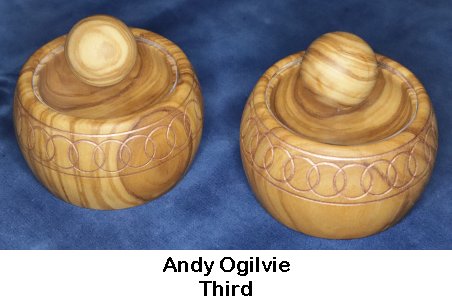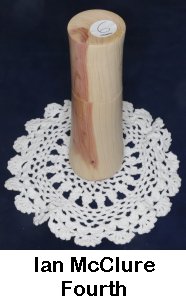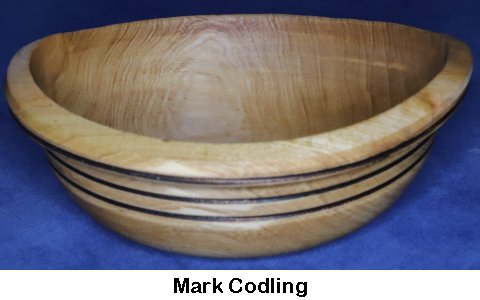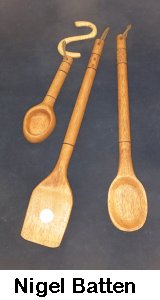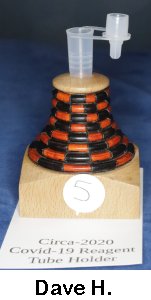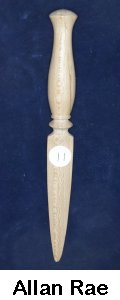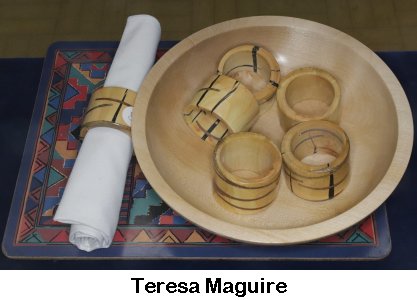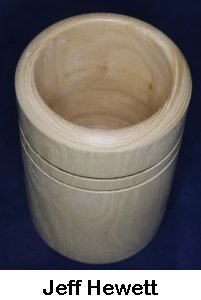 Remarks : Andy Ogilvie's Pinch Pots had Perspex lids (not obvious from photo) so that salt or pepper would be clearly identified;
Ian McClure's box contained his crochet hooks and still had room for the doily he was working on;
Mark Codling's elliptical bowl is out of Strawberry Tree which has a proneness to warp spectacularly;
Dave Hamilton's Lateral Flow Test-tube holder raised a smile from all;
Nick Gosden's lighthouse Pepper Grinder was one of a bulk commission;
Jeff Hewett's general pot was most remarkable for the fact that Jeff only had his first experience of turning the previous day on his neighbour's lathe. He was applauded for probably the shortest number of turning hours experience before entering a competition!
---
October 2021 - Appraisal Table
with Paul Reeves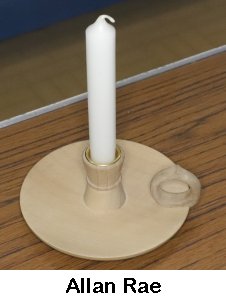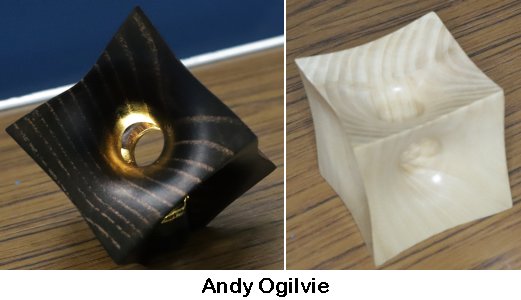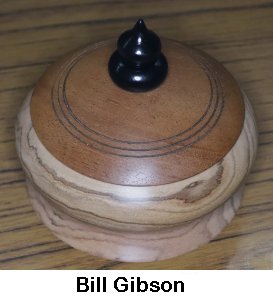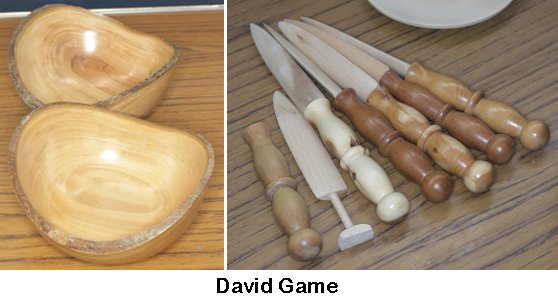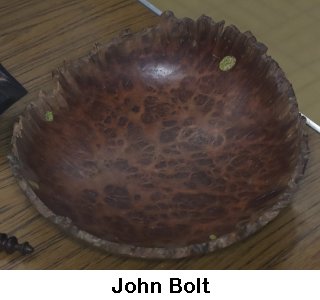 AND FINALLY
Below is what Paul Reeves describes as his, "first complete Monkey Puzzle bowl."
Whenever a demonstration has to be prepared to a deadline, commissions invariably get delayed so this piece missed this month's Members' Work table by a couple of days.
It is of spalted Monkey Puzzle; produced & now delivered for the kind donor of the tree from which it came.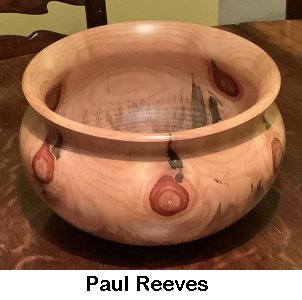 (click for close up view)
---
September 2021 - Award of 2019 Club Prizes
As the March 2020 meeting never took place, the delayed distribution of those prizes were awarded at this meeting.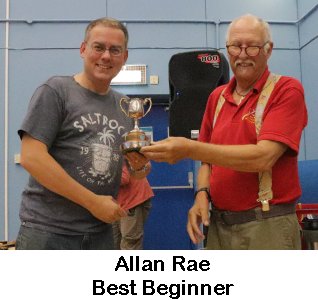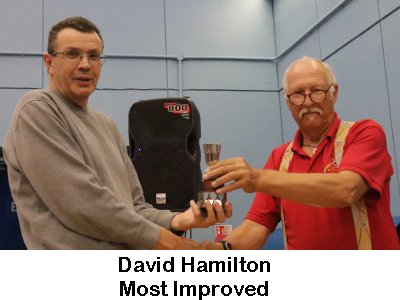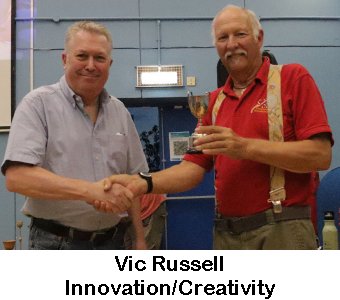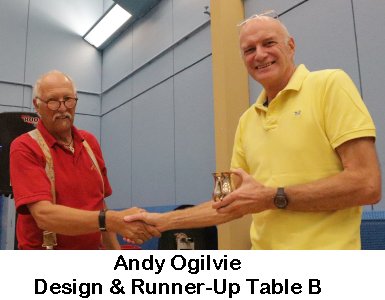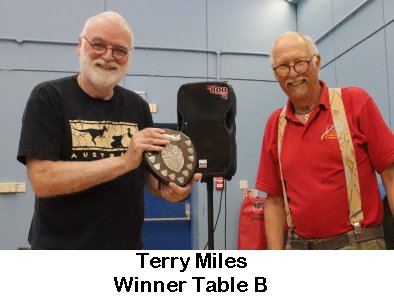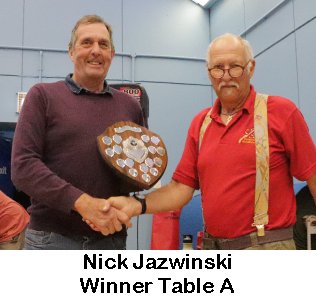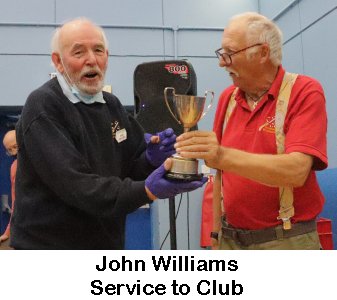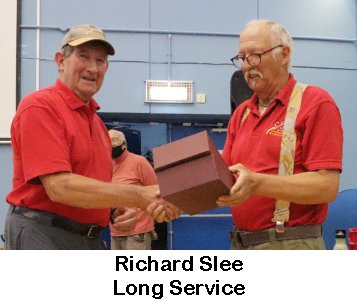 September 2021 - Appraisal Table
As this was the first meeting in 19 months, the remit was to bring along any/all one's Covid Lockdown turned projects. There was a good display but, unfortunately, the evening's prize giving and demonstration resulted in insufficient time for appraisals to be given.
Here are some of Members' work brought on the evening.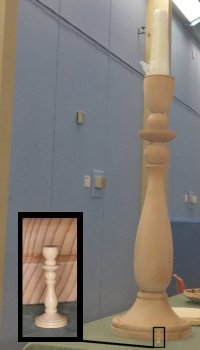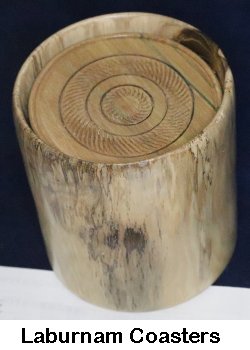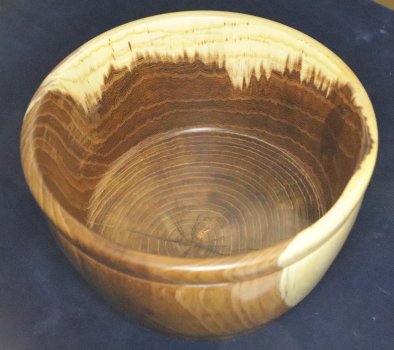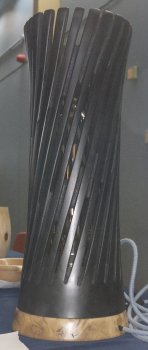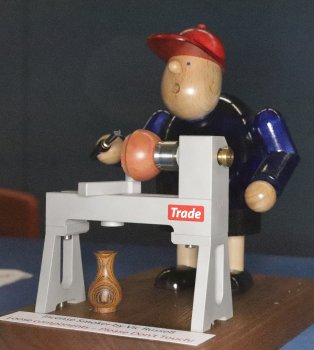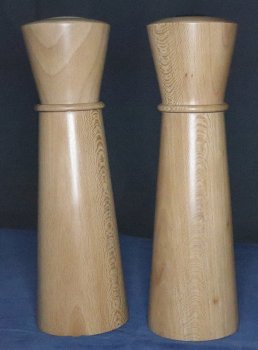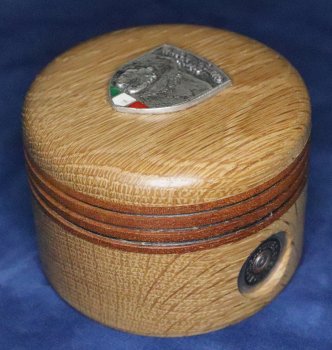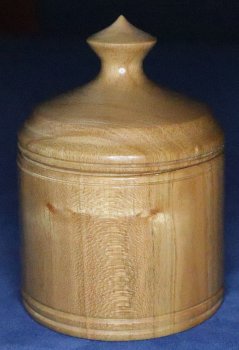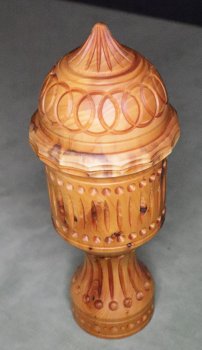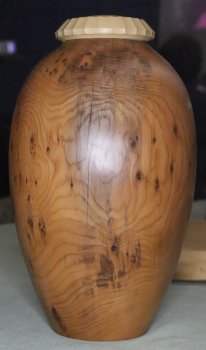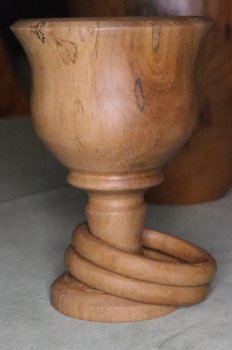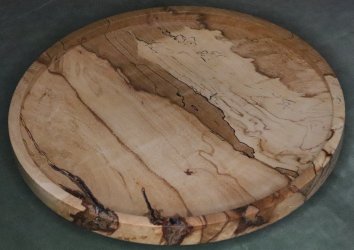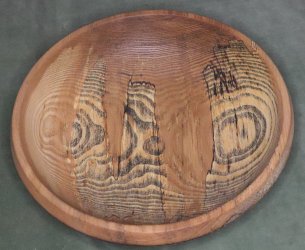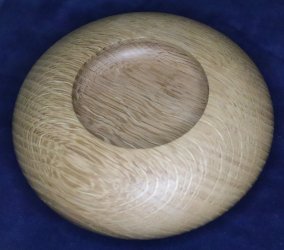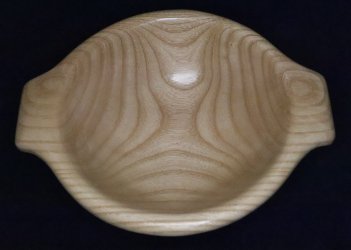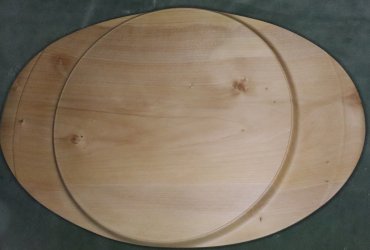 ---
May 2020 - On Line Comp 1
Any Miniature
Any turning not wider nor taller than 25mm or 50mm
25mm TABLE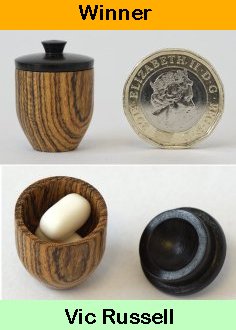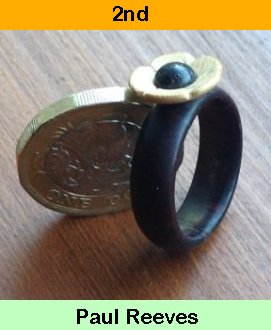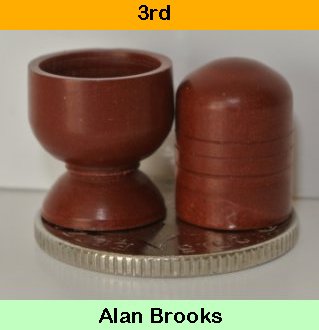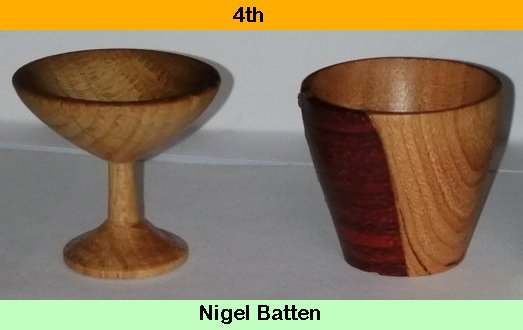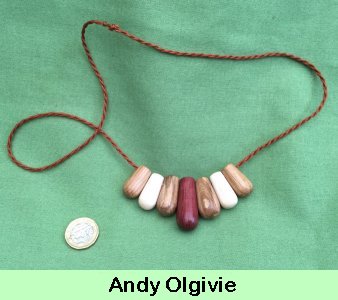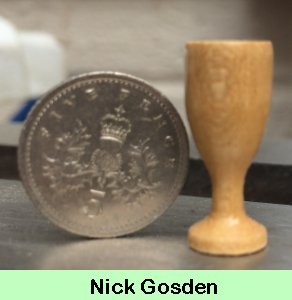 ---
50mm TABLE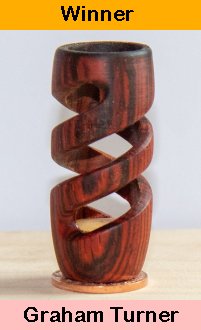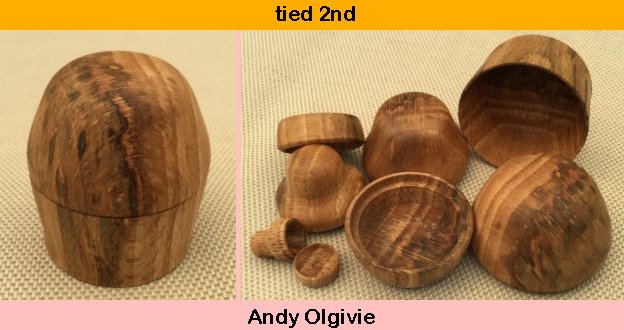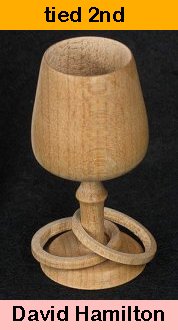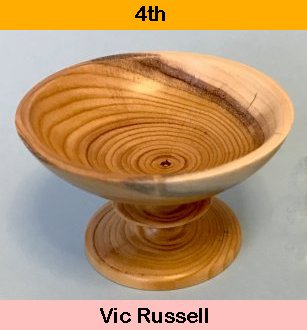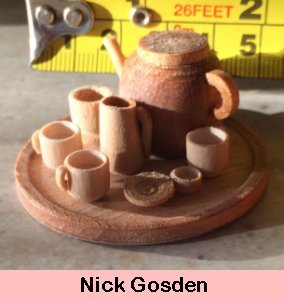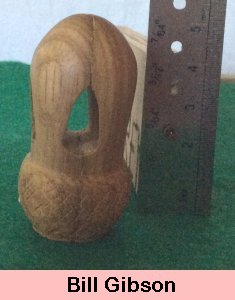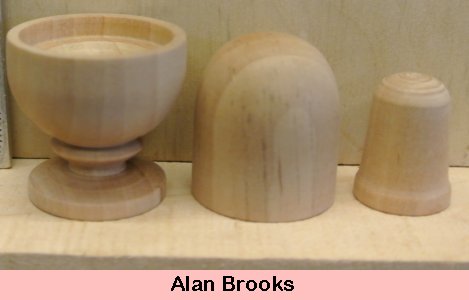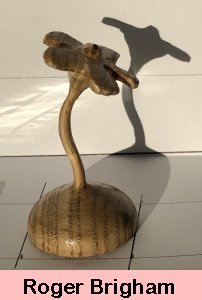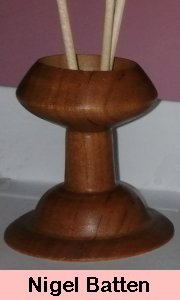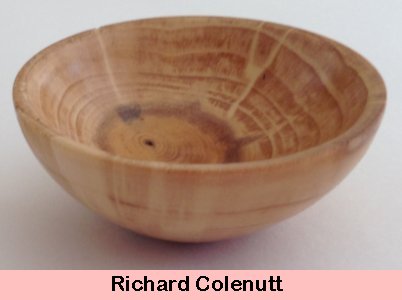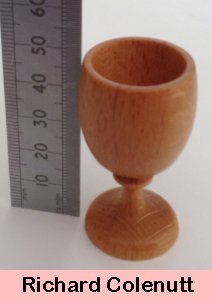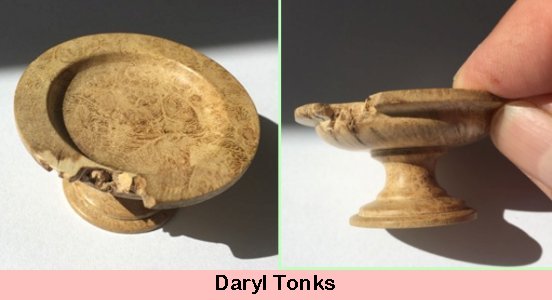 ---
February 2020 - Comp 5
Spindle & Face Plate Turned
Turned piece(s) comprising of elements of cross-grain turning
and along-grain turning in each completed piece.
TABLE A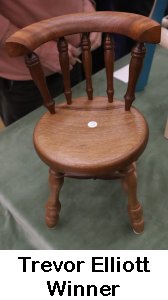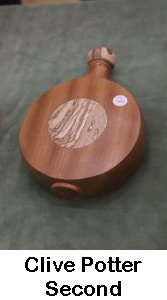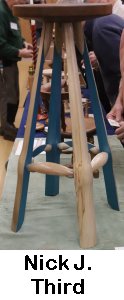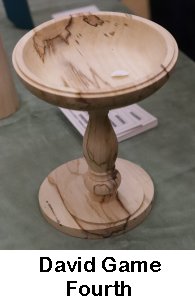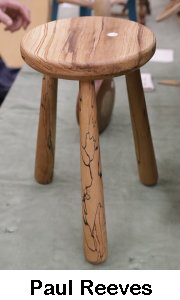 TABLE B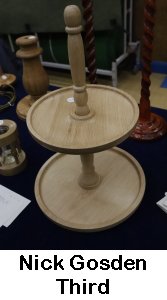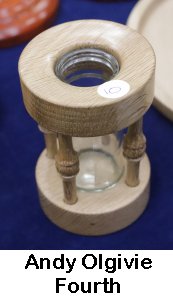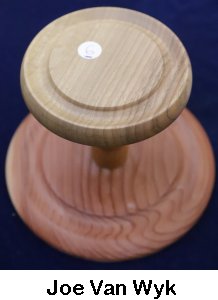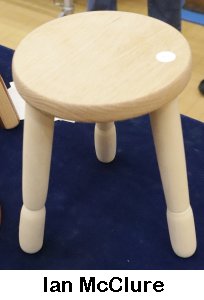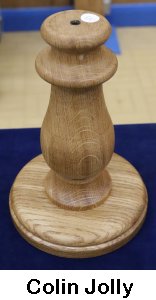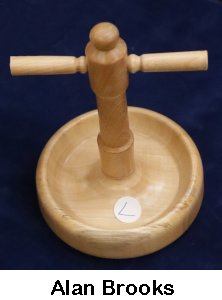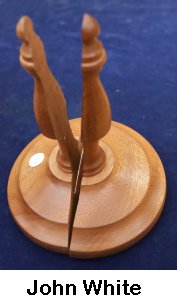 ~
A pleasing number of entries for Table B with some of the photos above needing some description to appreciate their superb work :-
David Hamilton's barley twist candle holders are more than 24 inches high;
Joe Van Wyk's submission comprised of a piece of Wellingtonia and has a dual function - an egg holder as in the photo above but converts to a cake stand when turned over;
Alan Brooks had produced a watch stand;
and John White's split turned piece would be turned over to reveal a flat brass hanger for fitting against a wall.
---
February 2020 - Appraisal Table
with Paul Reeves
Vic Russell had brought a hollow form out of spalted Birch with an attractive geometric design for the top half obtained using a pyrography pen. Paul commented that like all good hollow forms, this has matt black paint sprayed internally & a hole too small for a finger to find out how smoothly the woodturner had finished the inside! Having shown us his self-made ball turning tool last month, Vic latest example is a 5" wooden globe which required many hours of sanding away the dark stain of the continents that had strayed outside of the pyro-ed coastlines. His third exhibit was a carver's mallet, which looked so pristine that most would be reluctant to use it for fear of marking such a handsome piece.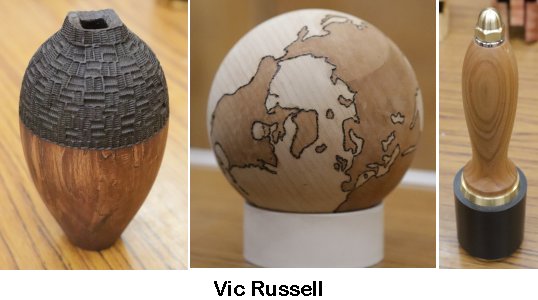 Bill Peach's Three Legged Bowl had been intended to be entered into the competition but had been misplaced on the table (for which the Organisers profusely apologise to Bill) and as acknowledgement, is now proudly shown below.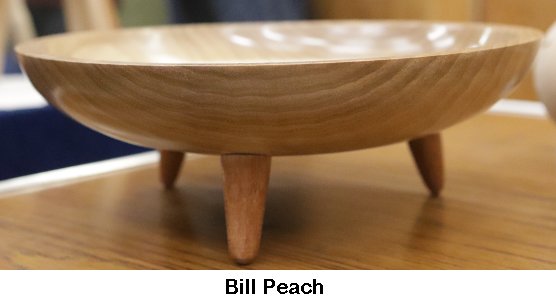 Grain & colour of John Bolt's 3" high ancient Phoenician-like Helmets were beautifully enhanced by buffing and spraying with gloss laquer.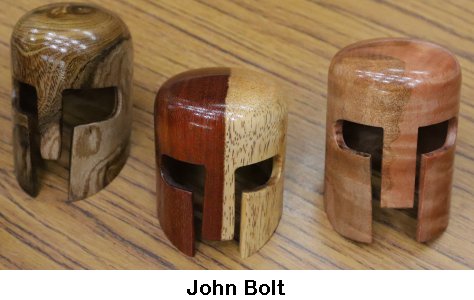 Rick Patrick's shiny 'Banana Bowl' in cherry highlighted the sharpness of the natural edges, which can so easily be rounded off when sanding, particularly so with the lathe turning.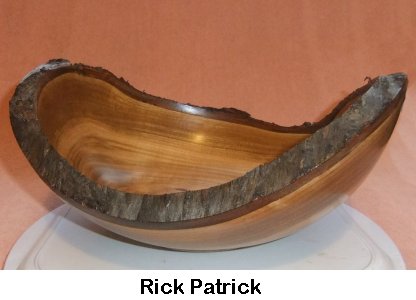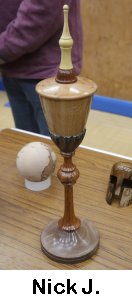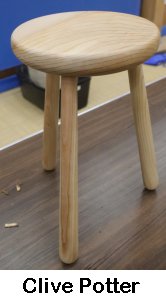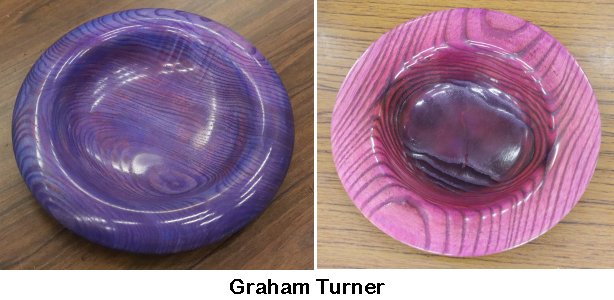 ---
January 2020 - Appraisal Table
with Paul Reeves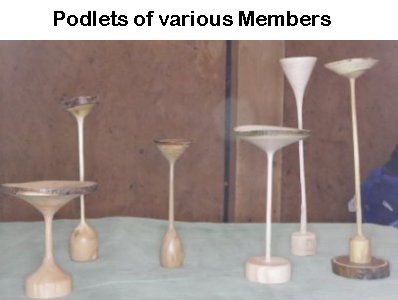 Following last month's demonstration of Podlet Turning with John Bolt, there were several members who had tried their hands with impressive results.
Ian McClure had been the most prolific and had shown that he had definitely mastered natural edges.
Vic Russell had augmented his Podlet with a eye-catching paint job within the 'petal'
and pleasingly, several relatively new to turning were tempted to not only have a go, but also put them up for appraisal.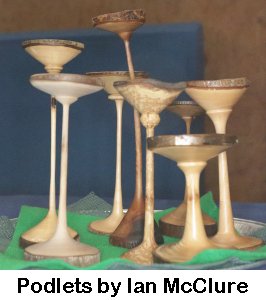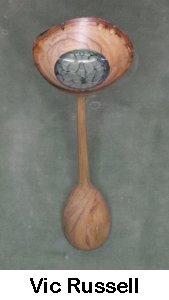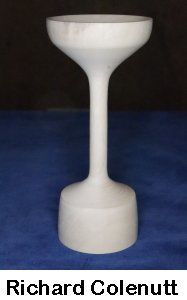 Jerry Lewis had brought in several A4 sized pictures from pyrograph & water colouring natural wood; (apologies but no worthy photos available for here).
The processes of producing a pewter topped bowl of Allan Rae were explained;
as were David Hamilton's scorched & coloured chestnut pieces.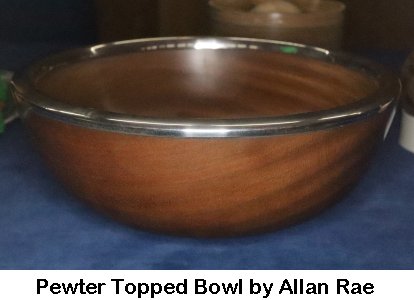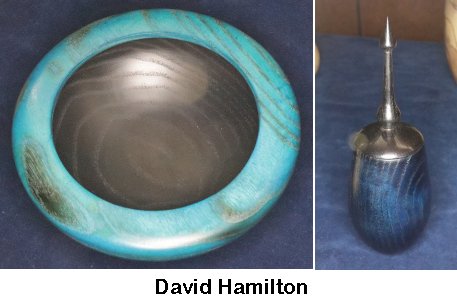 When inspecting each others work, it seems the first instinct of all woodturners is to turn the piece upside down. A Japanese rice bowl design of Terry Miles raised the consideration of deepening the hollowed out base to follow the outside curve of the bowl and Nick Jazwinski's crotched natural edge bowl highlighted the difficulty of keeping the edge an even thickness when working with a very steep sided design.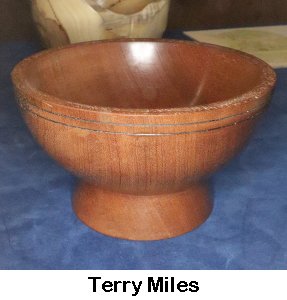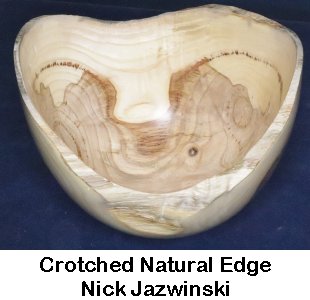 A wood not often seen at the Club is Alder which Paul commented that he was impressed that his bowl hadn't moved or shrunk significantly.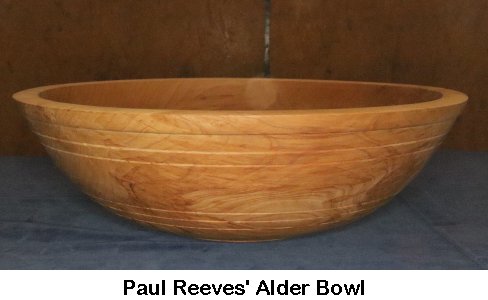 Finally, Vic Russell had made himself a bespoke ball making tool, so exquisitely machined & finished, it must have taken many days to make. The results were just as outstanding. (I could have said "awesome" but I think we are probably too old for that kind of talk!).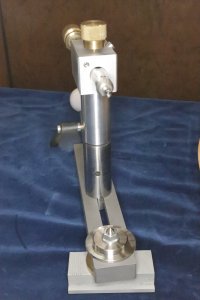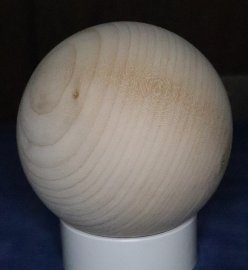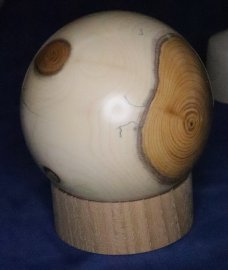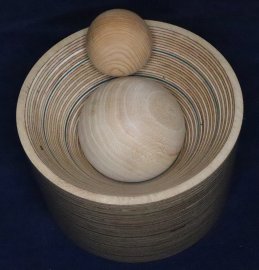 ---
December 2019 - Appraisal Table
with Graham Turner
This month's theme was Members' Christmas decorations and Tea Lights.
John Bolt & David Game had brought out their stock of Christmas Past & Present.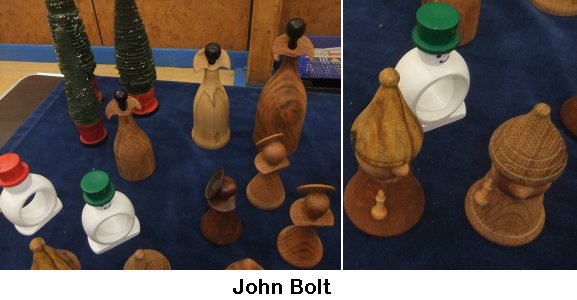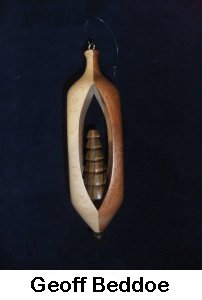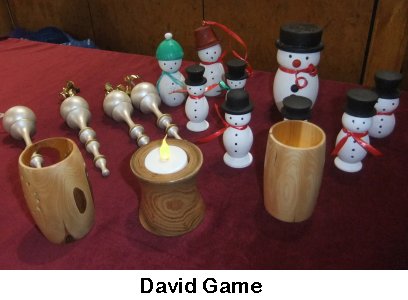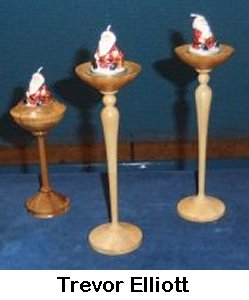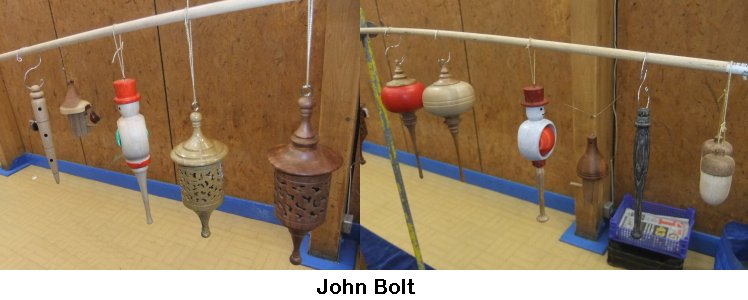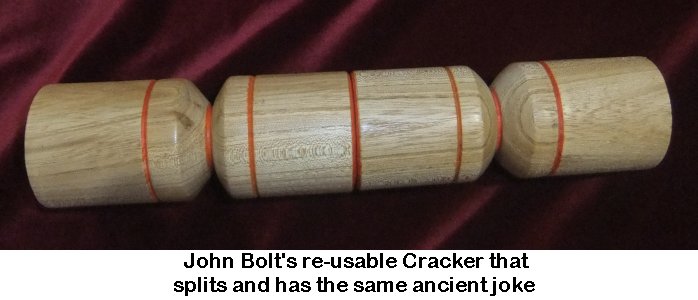 David Hamilton had used a bottle cutter to form his Bottle & Light ornament without any sharp edges. With the bottom section removed and an accurately turned base, it was a very effective ornament.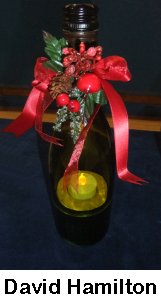 Following on from last month, Clive Potter made use of some of the 24 metal tea light holders (discovered hidden away in his loft) with the help of some Boxwood branches and other off cuts decorated with fallen fir cones.
Graham highlighted that if one wants to sell tea lights with naked flames to the general public, it is now a requirement to have a glass or metallic liner between the tea light & the wooden surround. Of course, LED powered lights are an alternative around this safety consideration.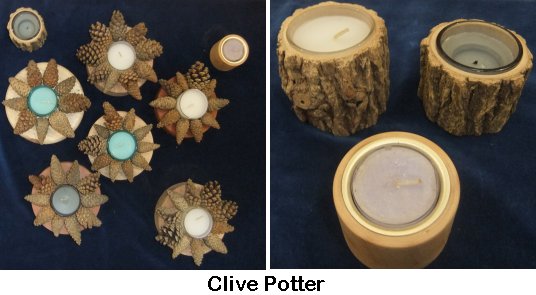 Also following on from last month, Andy Olgivie has spent another few evenings working on a Holtzapfel Ornamental Lathe to produce an intricately decorated napkin ring. This version divided each segment into eight, but Andy reckons that by dividing each into twelve, although there would be four more parts of a segment to complete, the cutter removes so much less wood that the total time would be significantly less. I guess in days of yore when His Lordship required 24 of them, it was well worth considering!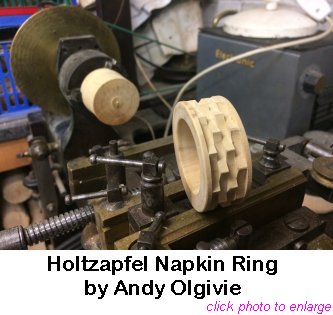 Humour in wood turning is always welcomed at The Club and Andy's contribution was a 'great hit'.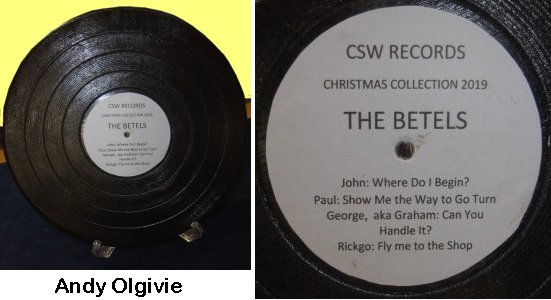 ---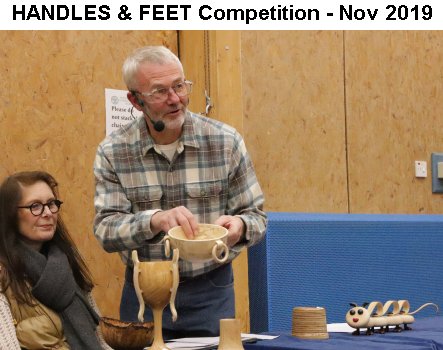 TABLE A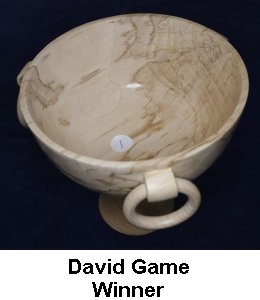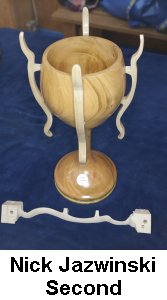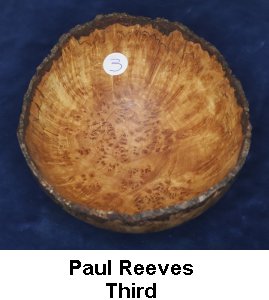 TABLE B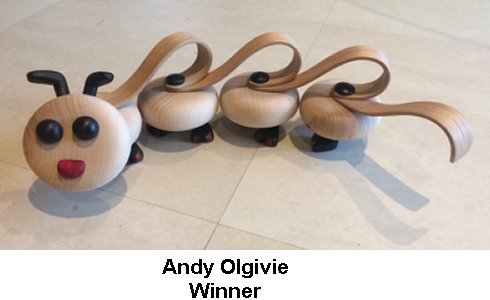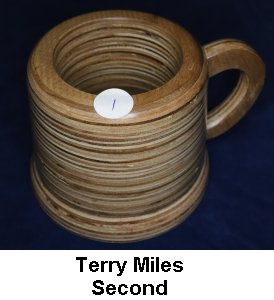 ---
November 2019 - Appraisal Table
by Paul Reeves
It was in sadness to say farewell to Ed Walker, who will have moved away by the next meeting. He has been an enthusiastic contributor & demonstrator with several years as Table A Champion and the entire Club wish him and his family well 'up North.' He brought in a few of his previous works; an open lattice bowl constructed from a 3" cube of wood, which he cut into small square logs & painted black before glued together, put into a bowl of water into a freezer and finally mounted the icy block onto a lathe to turn out the bowl below. His other piece this month was an imaginative use of coloured tea lights within Christmas Trees.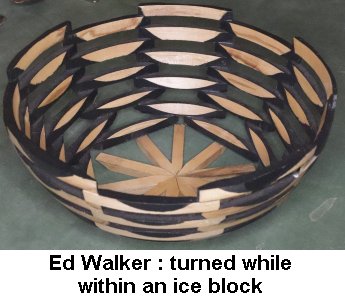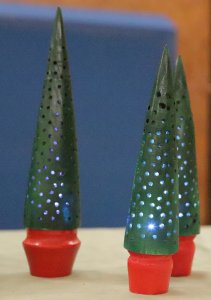 Allan Rae has taken a shine to working with resin with his penny bowl below. He also has been incorporating Milliput (an epoxy putty) in another bowl, which coincidently John Bolt had used in his geometric platter.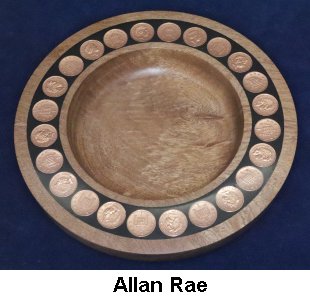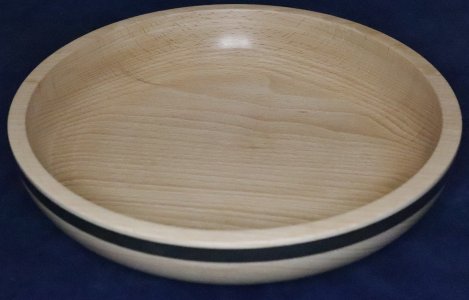 Andy Olgivie continues to renovate and get to grips with an ancient Holtzapfel Ornamental Lathe belonging to a Club Member and has managed to decorate a miniature Christmas Tree complete with engraved baubles and also decorated the small box below.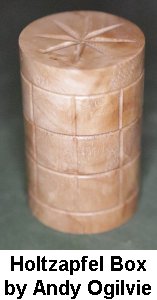 Clive Potter has been tidying out his loft space and found 60 pieces of metal cutlery bought for a song years ago, but waiting for wooden handles to be turned. He's nearly finished them but has now found 24 metal tea light holders needing wooden bases!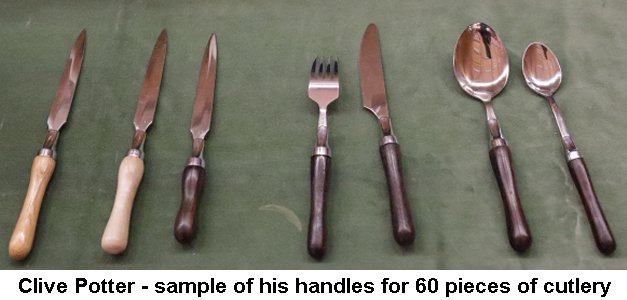 Following Nick Gosden's piece for the September 2019 Plywood Competition, Nick has now produced this fine piece.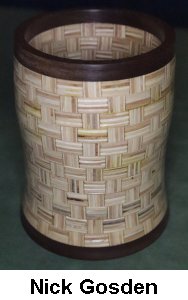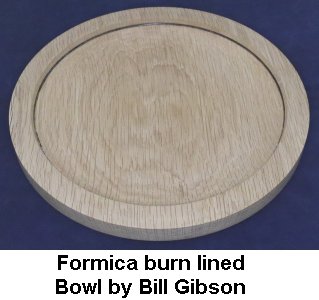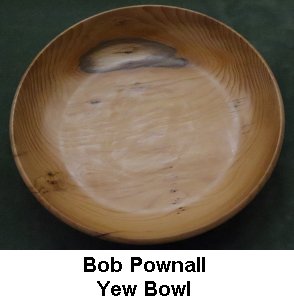 ---
October 2019 - Appraisal Table
by Paul Reeves
Following Liz Kent's demonstration, John Bolt & Paul Reeves showed their 'Dragon Bowl' designs. Whereas Liz had used four different tools, Paul commented that using just one tool (eg 80 grit disc) could achieve the same outcome. John Bolt had made use of iridescent colours, which augmented the finished effect. The edge of the inner bowls were also different.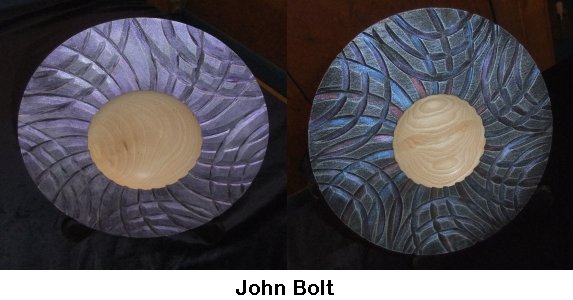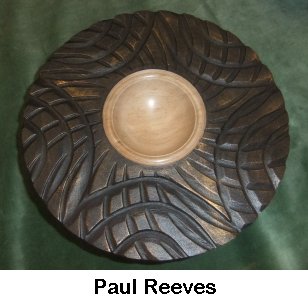 When there is a lot of white in an oak bowl, it is normally just about to fall apart, hence Paul's description of 'mouldy' oak. David Patrick had managed to turn his just in time.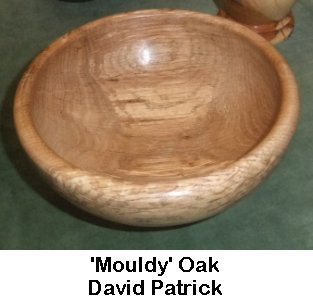 Andrew Fairfax had sourced some oak from France.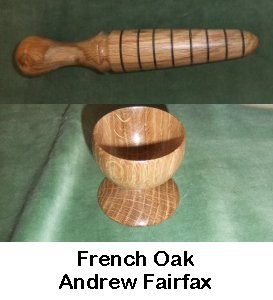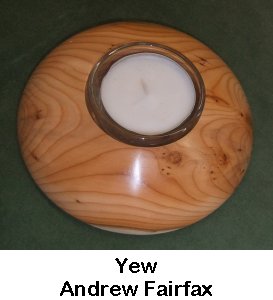 Rick Patrick had completed a commission asked of the Club for a Crown Bowl to be turned into a Keepsake Urn.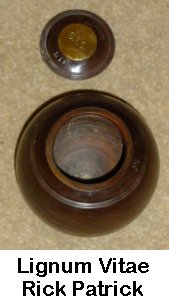 Other Members' work: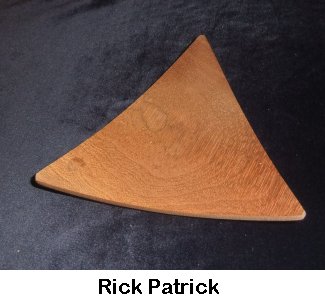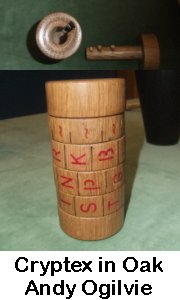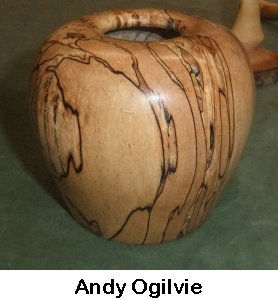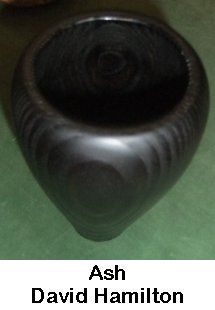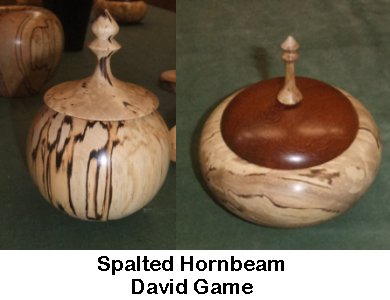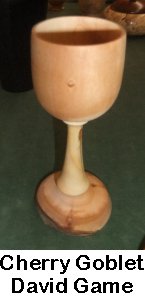 ---
September 2019 - Comp 3
Working Plywood
TABLE A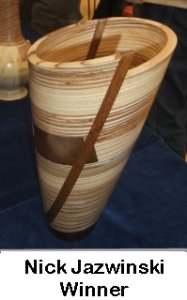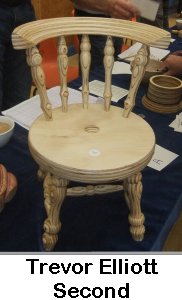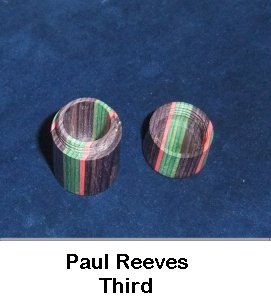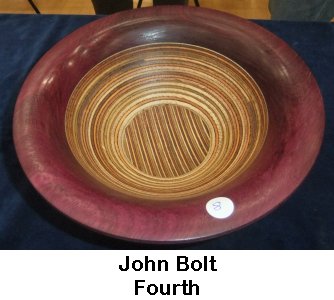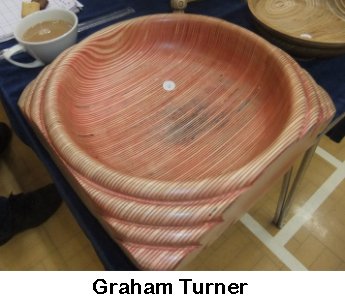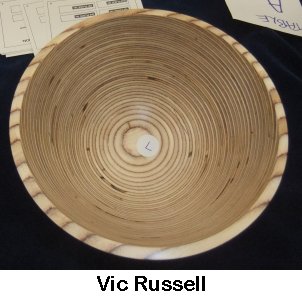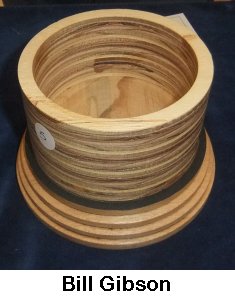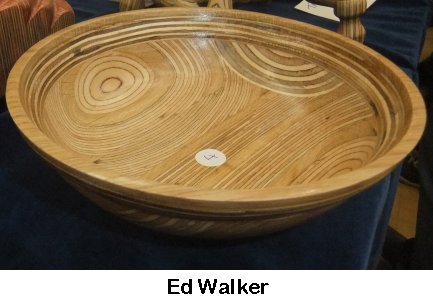 TABLE B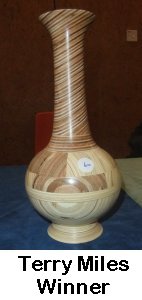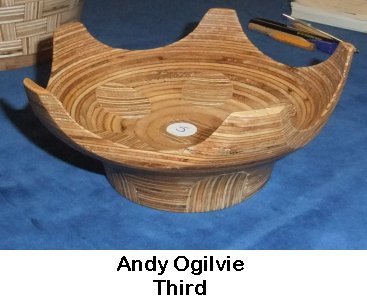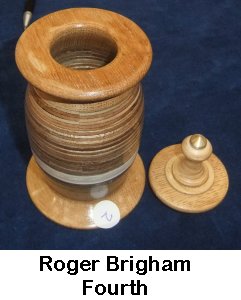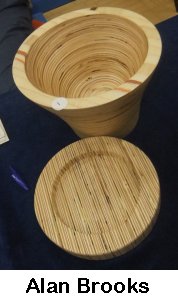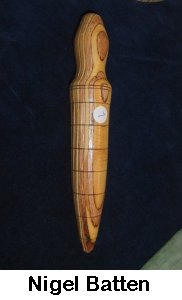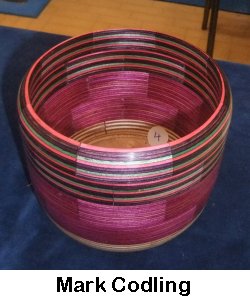 ---