Below are contributions from members during the Coronavirus Crisis for your perusal and inspiration.
Perhaps you might be tempted to add something of your own, a comment or some humour.
Contributions are in chronological order with the newest at the top.
Click < here > to submit any of your own work.
---
(Sun 1st Aug) Paul Reeves writes :
I've finally finished this piece. It has being 'drying' on my bench for about 4 years!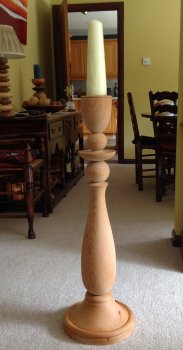 Meanwhile, some miniature work - small threaded boxes embellished using the 'Decorating Elf' & with tiny contents.
Boxwood spinning top in the first & a couple of 6mm high goblets with a bottle of red wine in the other.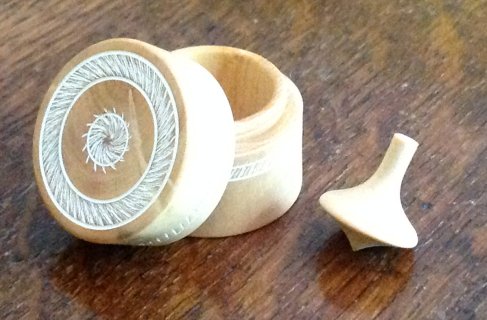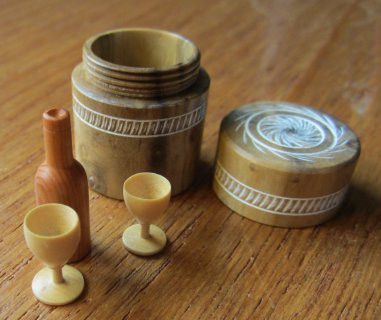 ---
(Sun 1st Aug) David Hamilton has finished a piece from Paul's latest Monkey Puzzle log.
The inside is finished with Lemon Oil and the outside with a light wax polish.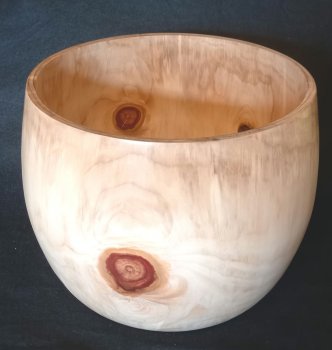 (click for close up view)
---
(Fri 16th Jul) Alan Brooks reports :
Below was a well seasoned piece of Yew that had been in the workshop for a very long time but I decided its time had come. The end result is 10" wide x 7" tall x .75" thick. Finished with sanding sealer and Renaissance wax. Due to the imbalance of the piece it rarely got to spin above 400rpm!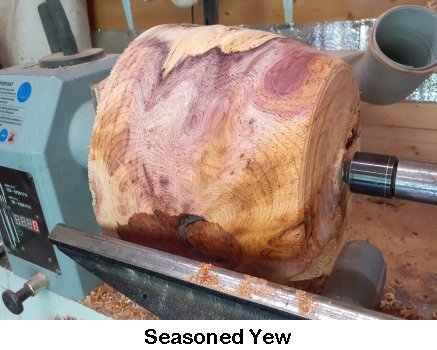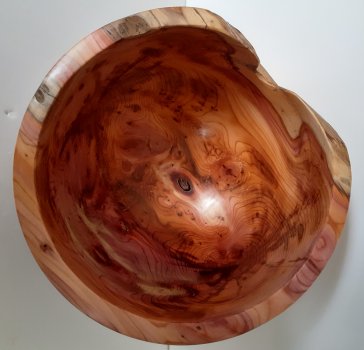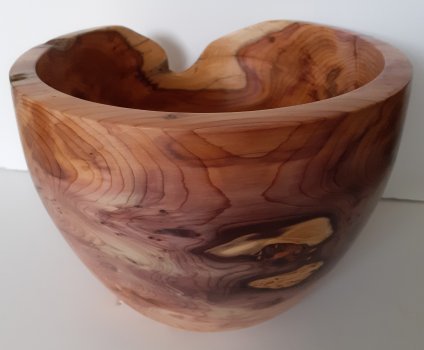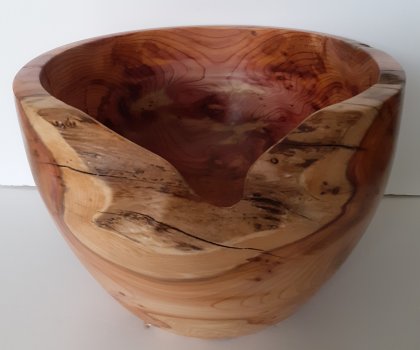 (click for close up views)
---
(Fri 18th Jun) Vic Russell writes :
A couple of recent turning projects,
A collet handle with cork grip ...


(click for close up view)
... & an Incense Burner woodturner.
(the incense cone sits in a brass cup and the smoke comes out of the mouth)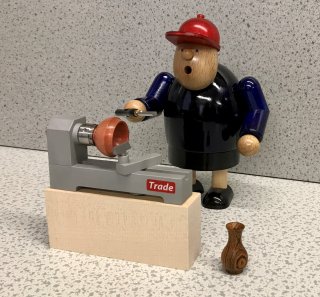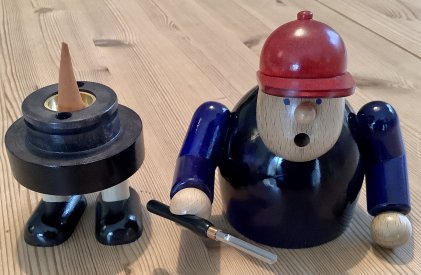 ---
(Fri 11th Jun) A few more contributions from the Patrick and Beddoe workshop :
All crush grinders made from Magnolia with the exception of a Rook out of Laburnum and another out of a combination of Oak & Purple Heart.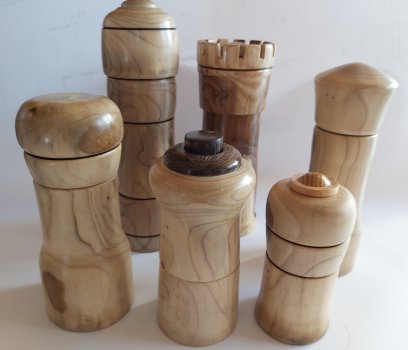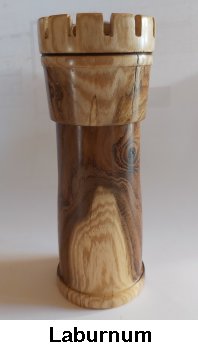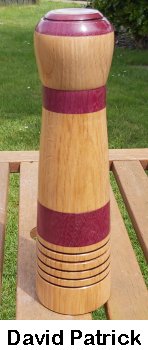 (click for close up view)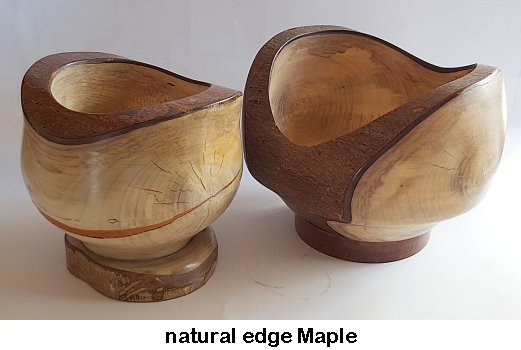 (click for close up view)
The star turn biscuit barrel shows Geoff having a bit of fun using up bits and pieces. The body is Apple, top/bottom rings are Lacewood, lid is Oak, handle is Mahogany, lid knob purple heart and handle pegs are Olive.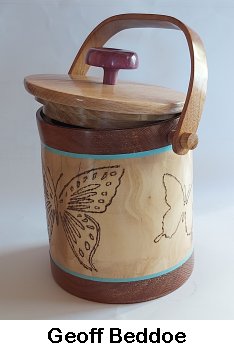 (click for close up view)
---
(Sun 25th Apr) Top Tip from Paul Reeves :
For the quickest way to peel a lump of wet Monkey Puzzle :-
Mount the piece straight onto the lathe either between centres or on a faceplate;
Turn away the hard bark and the softer next layer (the Cortex) which will come off in long strips;
The next layer (the Phloem) is very fluffy and just clogs over the edge of the tool, so stop the lathe;
Then with an old chisel, push it under the fluff from the end and prise it all off.
The chisel slides very easily with a tap of a mallet along a slippery skin (the Cambium Layer) just outside of the sapwood.

You should now have a lump with all of the knots sticking out .
Remember to turn it as a big spindle blank, cutting from large to small diameter on the outside.

The picture shows the last bit about to come off a very wet log.

---
(Wed 21st Apr) It's that Alan Brooks again! :
Couldn't wait to play with some of the Monkey Puzzle that I picked up on Saturday from Paul.
After spending some time stripping back the bark and sapwood have now got a 5 x 7" bowl (4mm thick) which hopefully will not split after being stored in shavings for a while.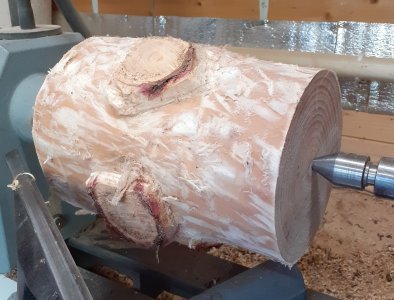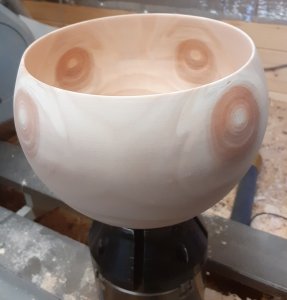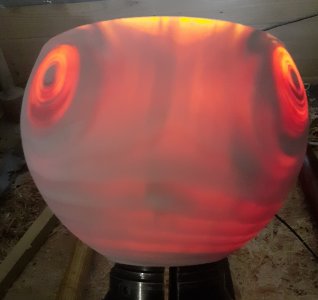 (click any for same larger view)
---
(Sat 17th Apr) Alan Brooks reports on two of his recent pieces :
Having seen this idea on Pinterest, I had some old Ash with its bark having a deep craggy effect. I needed to work out where the hole for my tailstock would be (eventually to house a test tube) and then line up the screw chuck to fit my head stock. On an earlier attempt, I had drilled the test tube hole first and then supported the work with a revolving centre whilst on the one pictured, I drilled the hole near completion so that I could shape the neck more precisely while it was better supported. Due to the offset, I could only run at about 300rpm using a large Roughing gouge to get it started but was able to increase speed as it took better shape. I kept with the roughing gouge for much of the side grain work and used a 3/8" bowl gouge to shape the top and small spindle gouge to refine the neck of the test tube opening. I suspect because the wood had dried out slowly and naturally, it remained stable and the bark has not shown any sign of peeling away. The only thing that has been applied is sanding sealer. Keeping the gouge sharp and doing the final sanding by hand seemed to avoid tearing out the bark.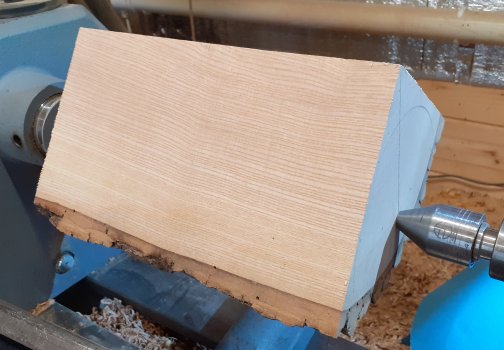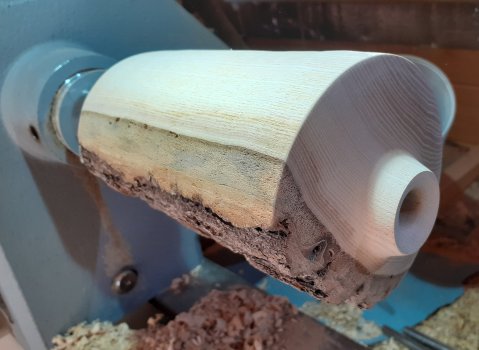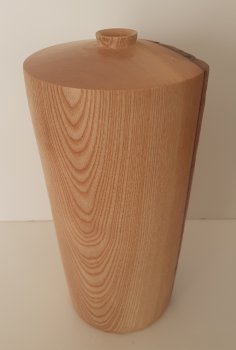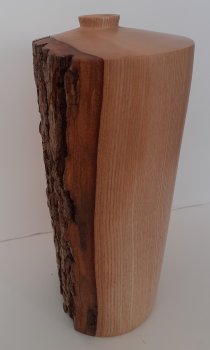 (click for close up view)
The Maple below had been cut down nearly 5 years ago. This piece was at the very base of the tree which resulted in some of the interesting markings. I used a large bowl gouge to remove the craggy bits to get the initial shape and then mostly use a 3/8" bowl gouges with different grinds to do the shaping. I don't purposely pick a timber when it comes with voids and holes but when they are there, it is quite exciting to see how far you can push yourself without causing damage to the wood, oneself or one's tools.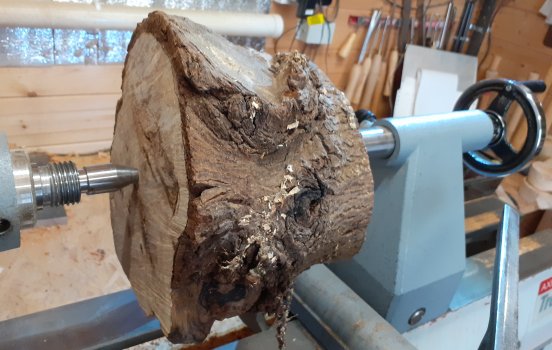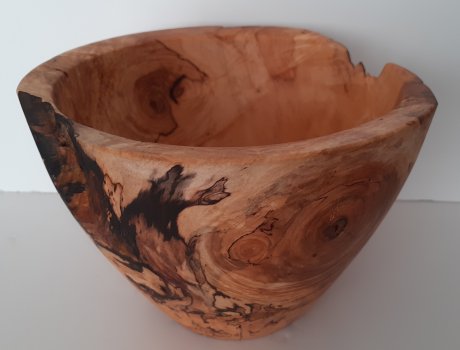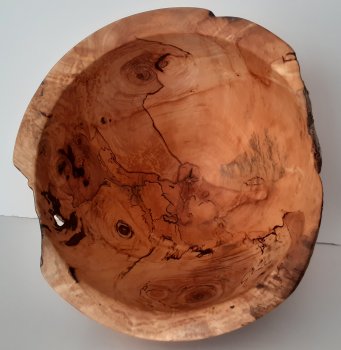 (click for close up view)
---
(Wed 14th Apr) Paul Reeves writes :
As I reported below (here), I had obtained some Ginkgo Biloba (aka the Maidenhair Tree) and I have now turned a 15" Serving Platter from a plank that had been exposed to the elements for 18 months. Interestingly, there was very little surface degrade or checking other than the blue mould stain. It was very pleasing to turn and sand so long as the tools were kept razor sharp.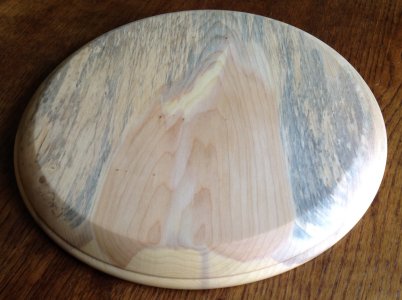 (click for close up view)
---
(Wed 7th Apr) Nick Gosden writes :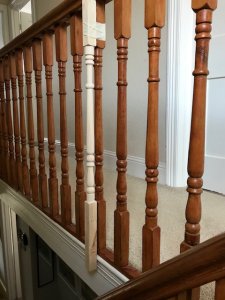 Needing to retain my grand children I decided to make some stair gates.
Then thought it would be nice to make them with spindles to match the 100 year old ones in the house.
I'm quite pleased with the result. The first pic shows my very very old lathe with my homemade steady screwed to the bench.
The next shows my spindle next to the 100 year old ones.
They were all hand turned. I know because I measured some and they are all different.
Now to do another 10 and colour finish to match.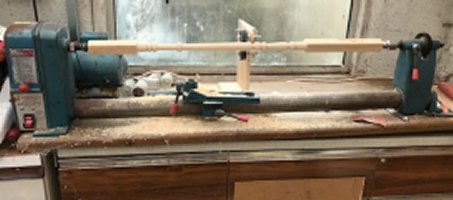 ---
(Wed 7th Apr) John Bolt has been sheltering the little people :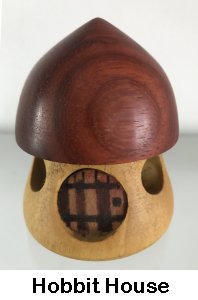 (click for close-up view)
---
(Thu 25th Mar) Alan Brooks reports on two of his pieces :
The first is a small piece of Robinia burr that came from Paul's place just prior to lockdown.
Bit of a challenge but finished up with it on a piece of branch wood as a plinth.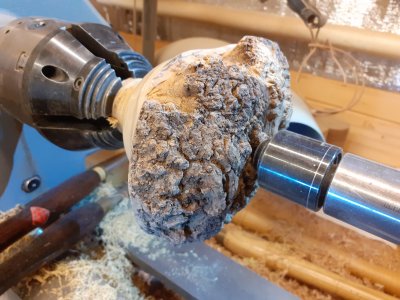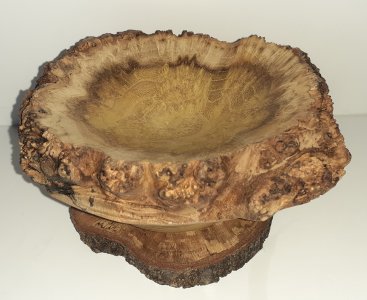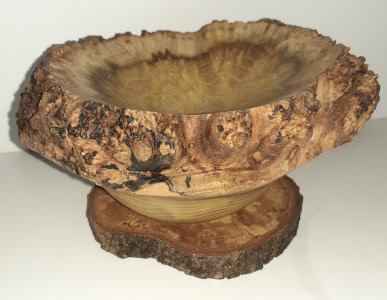 (click for close-up view)
The second is a 'well dried out' piece of Yew (8" x 6"at the widest point) with a few blemishes and a 6" test tube for buds/flower.
Finished as usual with Sanding Sealer and Renaissance wax.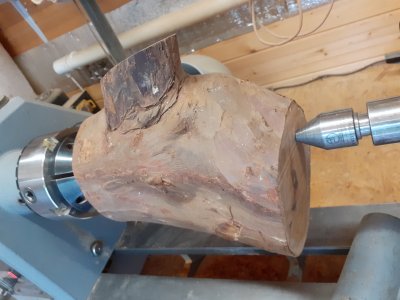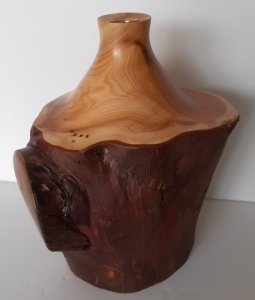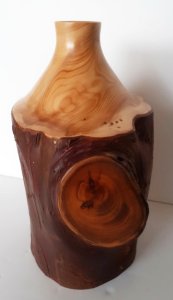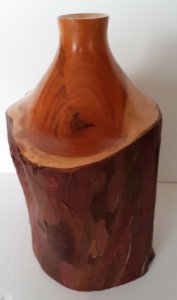 ---
(Tue 23rd Mar) Paul Reeves reports :
At last! I've finished my first 'proper' ornamental piece on the Holtzapffel 984.
Burr Yew & Boxwood;
Walls 2-3mm; Height 225mm/9"; Diameter 130mm/5"; Weight 254g/9oz.
Thread chased by hand 16tpi.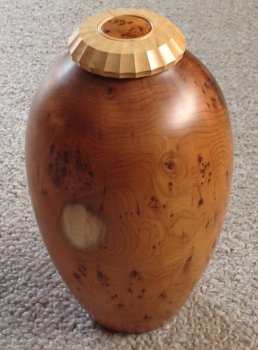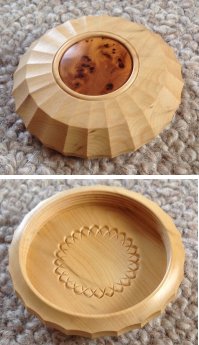 (click for close-up view)
---
(Fri 19th Mar) John Bolt having a 'Steampunk' moment :
If anyone has some metal cogs spare I have some more ideas for using them. Thanks in anticipation. JB.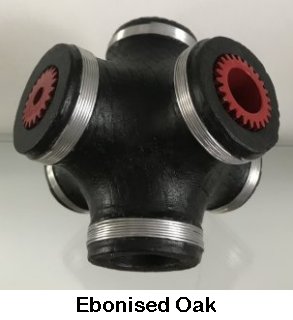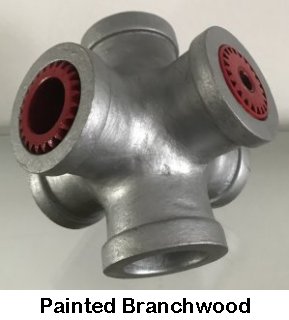 (click for close-up view)
---
(Wed 10th Mar) John Bolt preparing a Far Eastern Family Feast in Cedar :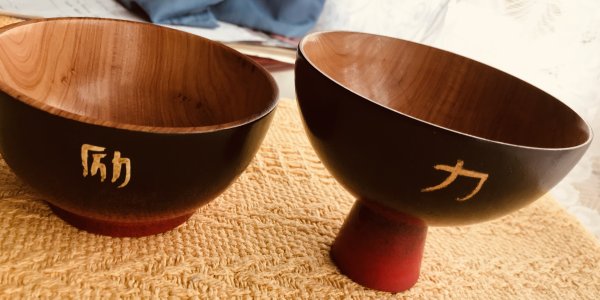 ---
(Sat 6th Mar) Paul Reeves has been updating his production line :
I've devised a 'Small Log' mill to process the Cherry I collected last month.
Below shows it set-up for the first cut :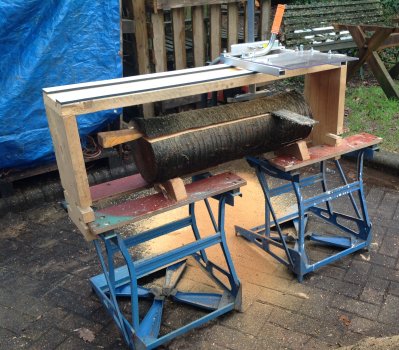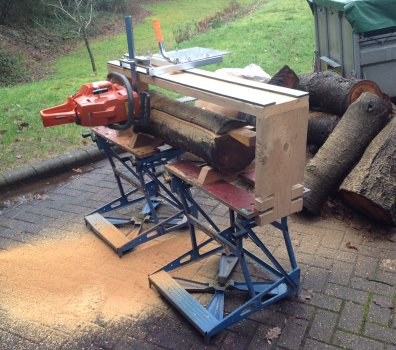 (click for close-up view)
---
(Sun 21st Feb) Another from John Bolt :
Shotgun cartridges caps decorating 2 boxes designed to carry £1 coins.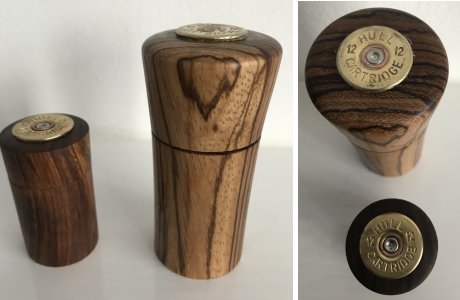 (click for close-up view)
---
(Mon 14th Feb) Terry Miles (via Vic Russell) reports :
Just a heads up - Lidl have their pull-saw in the middle aisle from Thursday 18th Feb. I use mine all the time. <Lidl Saw>
---
(Sun 14th Feb) Paul Reeves has been milling planks again :
I've obtained some useful sized Cherry and Ginkgo Biloba.
Ginkgo Biloba (aka The Maidenhair Tree) is an endangered species and the sole survivor of its group after its nearest 'cousin' became extinct more than 200 million years ago. As such, it is often referred to as a 'Living Fossil.' (see <Eden Project>)
It is also very rare to find in this size.
They should be available to Members once the moisture has dropped a bit.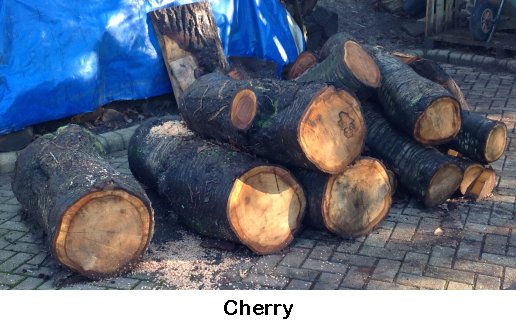 (click for close up view)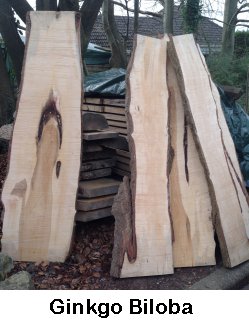 ---
(Thu 8th Feb) Top Tip from John Bolt :
For precision spraying of my superglue activator, I use the straw-like tube from a WD40 can.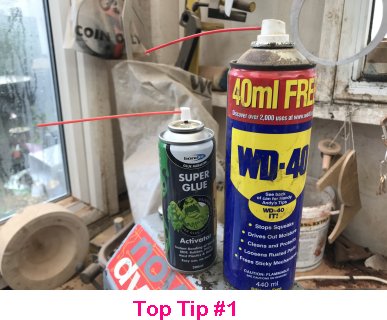 ---
(Fri 5th Feb) Two more contributions from David Patrick and Geoff Beddoe :
Two crush grinders made from Magnolia from the front garden (cut late 2019).
An uncommon close grain hardwood that turns and finishes very nicely.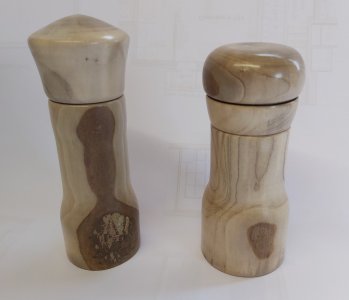 ---

(Wed 3rd Feb) Jerry Lewis writes :
Many may know about this already but the Arboricultural Association has produced a free app called 'TMA Fungi' which has a fungi gallery and tree list.
I mention this as I attempted to identify the fungus in the photograph of the 300 year old Oak taken by Paul Reeves below, < HERE >
My guess, and I am no expert at all, is that it is either dried Smoky Polypore (Bjerkandera Adusta) or Turkey Tail (Trametes Versicolor).
Well that killed a few Covid lockdown hours!
---
(Wed 3rd Feb) Submission from Peter Orr :
A Butterfly Urn/ Vase standing about 14" high and made in three sections.
I used automotive spray paint and made hand drawn stencils for the decoration.
The handles were hand carved and although they resemble knuckle-dusters, they are meant to be stylised butterfly's wings.

---
(Tue 2nd Feb) Submission from John Bolt :
Bowl within a bowl - out of Robinia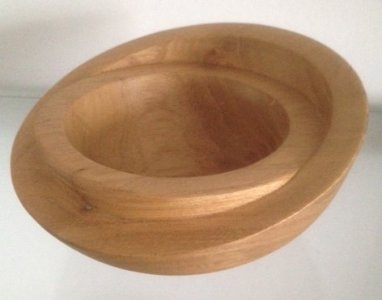 (click for close-up view)
---
(Fri 29th Jan) Rick Patrick reports :
A friend asked me to turn some legs for a picnic table where the table top was a floor of his horse drawn antique Wagonette and the 30" legs were to be stored within the underside so that at a meeting place with the occupants disembarked, the table could be re-assembled from parts of the carriage.
For such an occasion, I thought a Cabriole leg would be more befitting than a simple tapered round leg.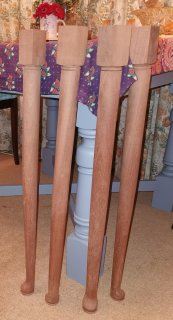 I decided that I would turn the 4 legs while each were at their initial centres before starting to turn any at their off centres.
My thinking was that in the event of one leg ending up a smaller diameter than the others (inevitably with my luck, it would be the last I turned), I would still have the opportunity to turn the conflicting legs down to the smallest size before progressing to the cabriole shaping.

Although Paul's Off-Centre Turning Demonstration talked about turning away the 'shadow' when using offset centres, I was concerned that over such a long length, the diameter of the 'ankle' would be so much smaller than at the 'knee,' it would make the leg look weak and wrong.
I opted instead to turning a gently changing 'shadow' which resulted from a circle at the knee to a slightly smaller oval at the ankle, which preserved the strength but still showed off the cabriole appearance. (click the photo for a close up view)

Normally, turning a long thin spindle results in the piece vibrating such that the gouge leaves corkscrew ripples along the sides. However, I discovered that I didn't need a Lathe Steady because I used a 1/4" spindle gouge to turn the wood away and the consequent small shavings seemed to work without any vibration being created.

Despite the gouge helping to keep ripples at bay, the wood did have a tendency to rip out in places so the last few millimetres had to be achieved using abrasives with the lathe turning. Micrometer callipers were essential to keep the ovals equal on all 4 legs and an electric sander with the lathe at rest was the best way to reduce the over-sized dimension once the other had nearly reached its required thickness.

I treated the foot soles with an Osmo waterproof varnish to prevent the feet sucking moisture up the end-grain from any outdoor surface the picnic table was set.
---
(Wed 27th Jan) Alan Brooks writes :
Below are images of a Beehive box (5" x 3") made from a piece of Robinia from Paul's wood store collected prior to lockdown. Honey dipper is from a Beech pen blank. Also dabbled for the first time with Pyrography but need a lot more practice.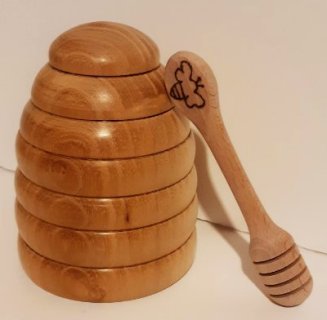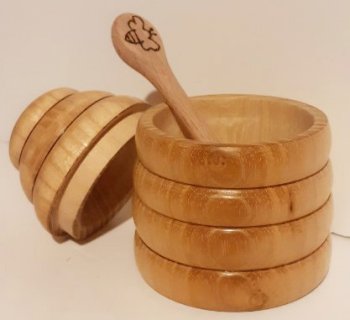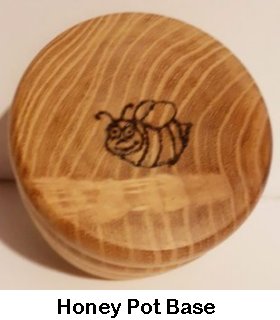 ---
(Sun 24th Jan) John Bolt has been busy :
The woods are ash, oak, birch, mahogany and ply.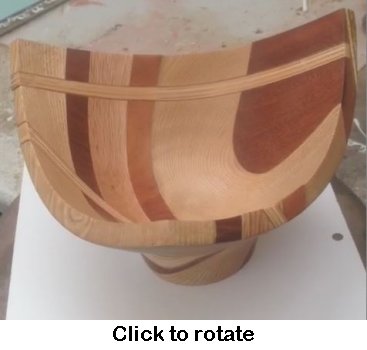 ---
(Thu 21st Jan) John Bolt writes :
Three alley cats idea seen on Pinterest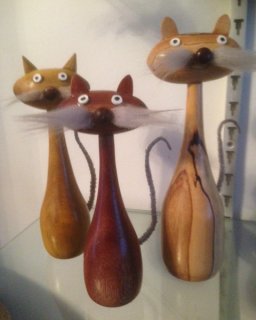 ---
(Fri 15th Jan) Alan Brooks writes :
Belated New Year wishes and hope you are still surviving. Just before the latest lockdown I was able to pay Paul a visit to get a top up of blanks etc and after a trial run with a piece of unknown timber have just completed the second Puzzle ball/Sovereign Ball as demonstrated in the Woodturning magazine by Andy Coates. The second ball was using London Plane from Paul's supplies and whilst filling his coffers was able to discuss different ways to approach the ball. Will be using some of the Pear that I also got at the same time for the next attempt. Also attached is a belated 4ft snowman from Leylandii and his little helpers.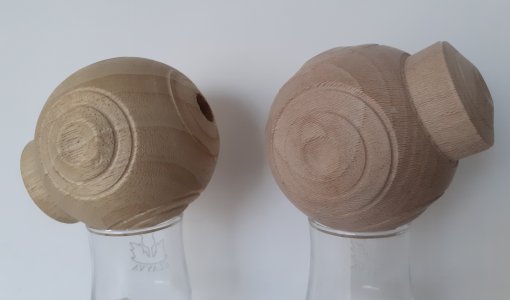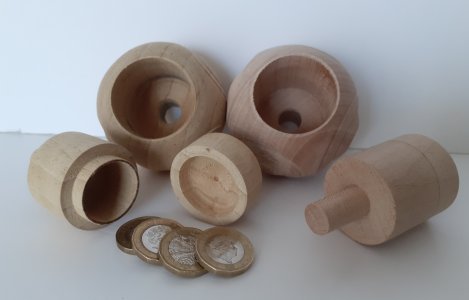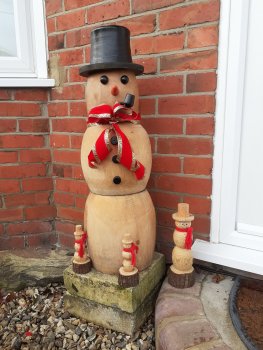 (click for close-up view)
---
(Tue 12th Jan) David Patrick reports :
Geoff Beddoe and I find ourselves in the same bubble and sharing a lathe. Over the last few weeks, the lockdown has given us the opportunity to share ideas and do a little turning together, which the other club members might find interesting :
Image 1 – Spice rack having an ash bowl, English oak spice pots with glass screw on inserts and a Wenge handle.
Image 2 – Clock surround turned from an old Elm blank (looking a little like swiss cheese) and base from African Blackwood. Barometer surround turned from Sapele and also having an African Blackwood base.
Image 3 – Bowl turned from American Oak gifted by another member. Started out with significant tear-out but rescued by Geoff to show off an very appealing grain pattern.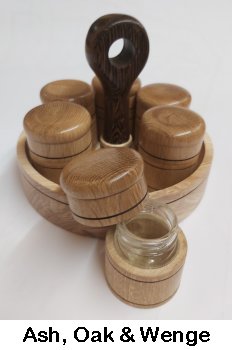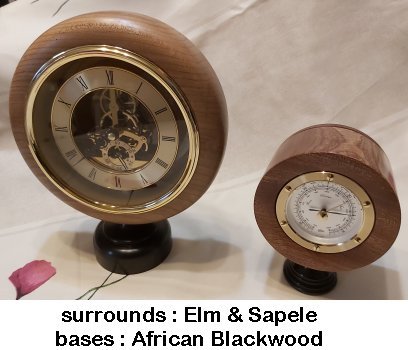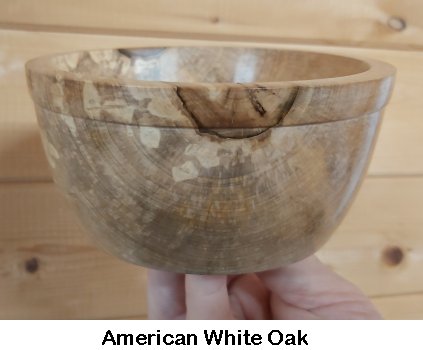 (click for close-up views)
---
(Fri 8th Jan) Paul Reeves reports further :
All done; 300 years to cut & stack.
---
(Wed 6th Jan) Paul Reeves reports :
Now THAT's what you call a plank!
32"x 78"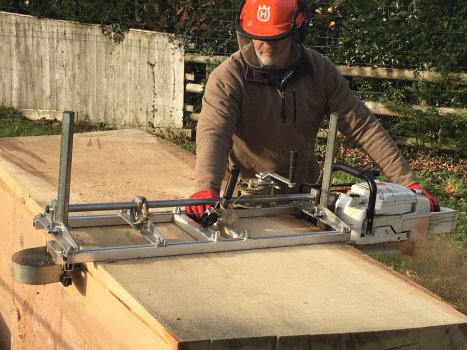 (click for close-up view)
Oak slab table anyone?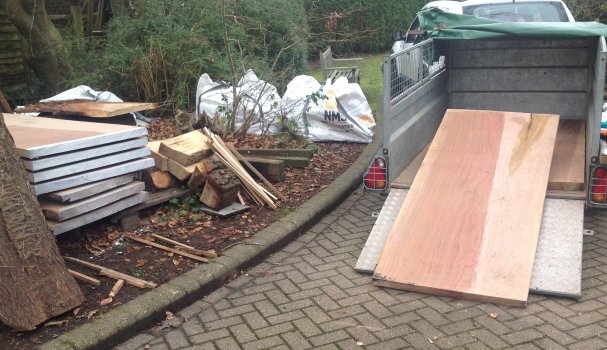 ---
(Thu 31st Dec) John Bolt reports :
Following Andrew Hall's Smoking Snowman demo on line, you can place a incense cone inside the body and the smoke will come out the mouth.
Happy New Year to all.

---
(Sun 20th Dec) Colin Jolly reports :
A Centrepiece for an oak table on Christmas Day.

(click for close-up view)
---
(Sat 19th Dec) John Bolt reports :
I've pimped some sea urchin shells with finials for the Xmas tree.
A Merry Xmas to you all and hopefully see you all sometime in 2021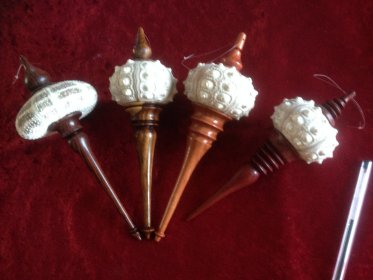 (click for close-up view)
---
(Sat 19th Dec) Trevor Elliott writes :
These are my Xmas candles. They almost look like a pair when socially distanced!
Have a good Xmas if you can.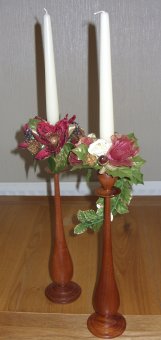 (click for close-up view)
---
(Wed 16th Dec) David Game writes :
It's party time so bring on the Clowns.
A Merry Christmas to everyone.
Let's hope we can get back to normal meetings in the New Year.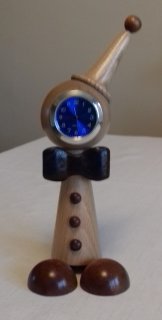 ---
(Wed 16th Dec) John Bolt has returned with tinted Xmas gnomes: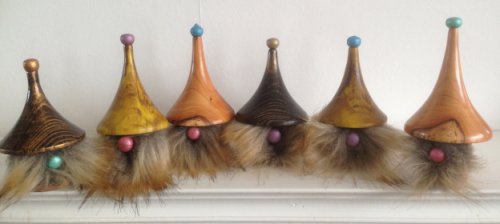 (click for close-up view)
---
(Tue 9th Dec) Vic Russell writes :
Not surprisingly I've seen lots of Snowmen on Facebook but thought these were pretty good if any of you need inspiration.
I particularly like the bobble hats and carrot noses!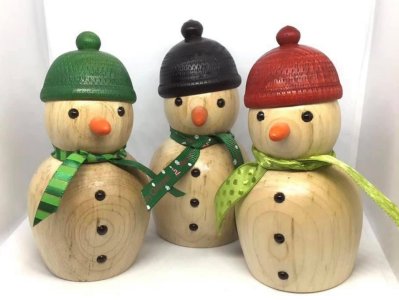 (click for close-up view)
---
(Fri 4th Dec) Andy Olgilvie reports :
I don't claim the original thought on the masked snowman but as far as I'm aware, the original did not carry the vital vaccine.
Not sure about the 3 week wait for a second dose!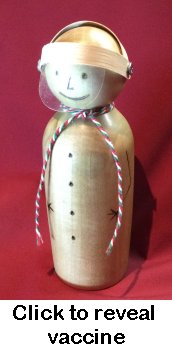 ---
(Thu 3rd Dec) John Bolt reveals what he has been turning during the latest lockdown. It is difficult to see what his hairy gnomes (disguised as Christmas tree ornaments) think of his walnut dish but the second gnome from the left looks like a hard case I wouldn't want to argue with.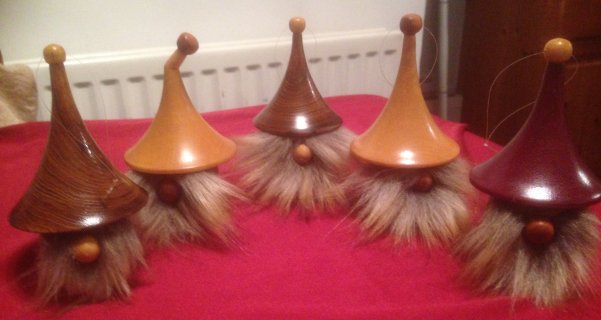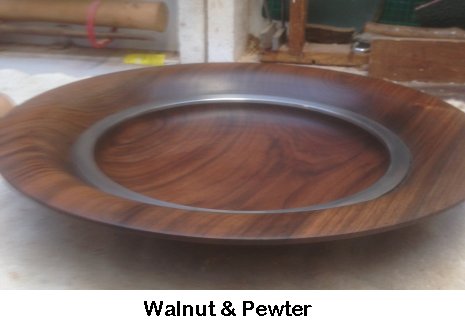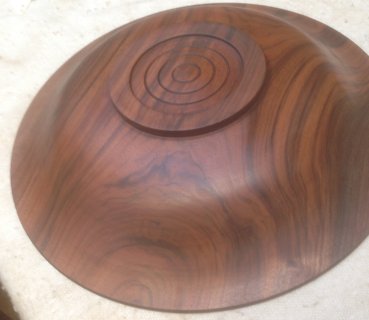 ---
(Thu 12th Nov) Andy Ogilvie has been busy!! :
As a result of my continued efforts on the Holtzapffel I have joined the Society of Ornamental Turners. Like CSW, they have competitions and this is my entry for the latest one. The brief was to produce a 'Gada', which can either be taken to be a ceremonial mace or a weapon used in training and combat.
It will be judged on its overall form and the technical skill demonstrated in the decorative effects.
It is about 270mm long and made from maple.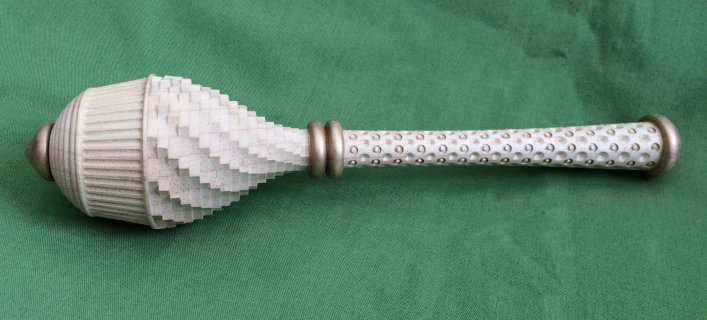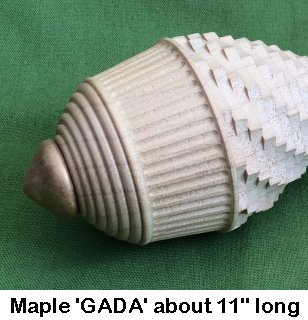 (click for close-up views)
---
(Thu 5th Nov) Ian Wright has suggested a section devoted to, what he describes, as a 'Whoops' scenario.
He has shared two of his most memorable; an unintentional touch of a gouge/tool rest and the bottom of a bowl getting transparently thin.
I must admit I've committed similar more than once.
Anybody else prepared to put there heads above the parapet?
Contributions from 'Anon' will be accepted and hopefully no one will send examples in the name of somebody else!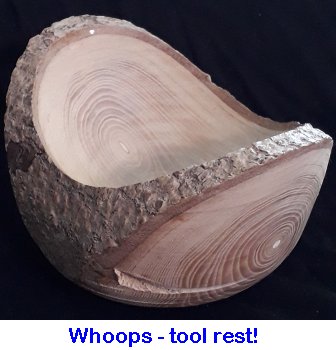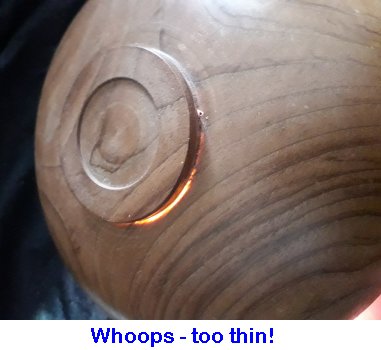 (click for close-up views)
---
(Wed 21st Oct) Nick Gosden writes :
A close look will reveal a lot of mistakes.
It was a massive challenge and learning curve.
In a couple of weeks I hope to have a friend try using it.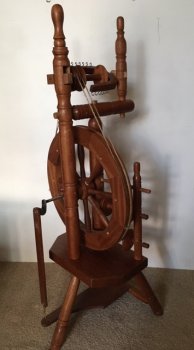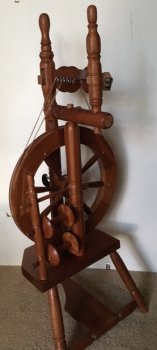 ---
(Mon 12th Oct) Paul Reeves reports upon what he did this weekend! :
This is a 300 yr old oak that fell over during the storms in March.
The chain saw has a 42" bar full depth cutting and this is the thin end !!!!!
Only about 3 tons to go.
The root was completely dead and just snapped off.
It should have lifted the fence but didn't break anything.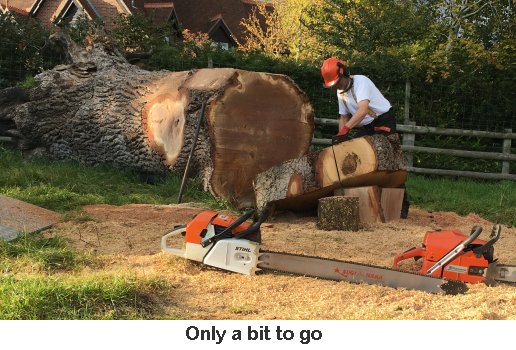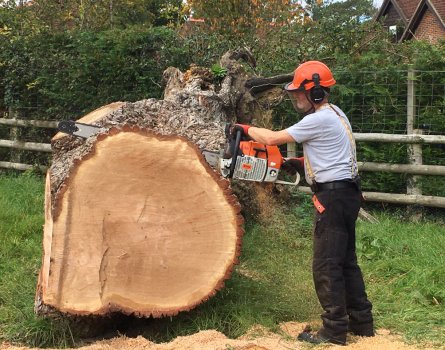 (click for close-up view)
(Back to Jerry Lewis & Fungi App)
---
(Fri 9th Oct) Ian Wright writes :
A much played with but now neglected dusty old witch. She would have been whizzed up about 40 years ago by a busy Dad from an oak offcut.
Come this Halloween, perhaps a turn would please a little one you know.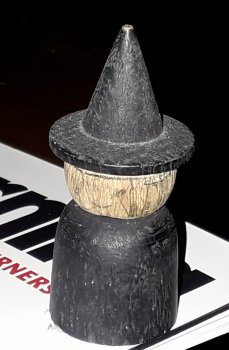 (click for close-up view)
---
(Sat 3rd Oct) Andy Ogilvie has further Holtzapffel news to follow Paul's efforts :
A spiral basket weave pattern on a small vase (140mm tall) in Purpleheart, finished with Danish Oil.
Careful depth calibration needed for each round of plunge cuts with a spinning cutter.
The work was rotated using a headstock index for each cut and to achieve the spiral effect.



(click for close-up views)
Next, a 140mm dia bowl in Hornbeam decorated on the Holtzapffel lathe, finished with sealer and wax, polished in part with a clean shoe brush to get into the grooves.
The offset bowl was turned using an eccentric chuck which was also used for the pattern in conjunction with the eccentric cutting frame.
The radius of the circles changed by only a few hundredths of an inch each time - delicate work, lots of concentration!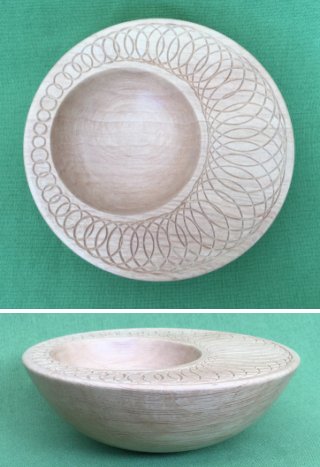 (click for close-up view)
---
(Thu 1st Oct) Paul Reeves reports :
These coasters were turned on the Graduate lathe (over 50 yrs old) and then decorated using the Holtzappfel lathe (just coming up to it's 200th birthday). They are my first attempts at a pattern called Barleycorn and as such are full of all the beginner's mistakes that I could manage.
The closest to the correct pattern is the centre of the left hand coaster. Nice way to spend a couple of hours though.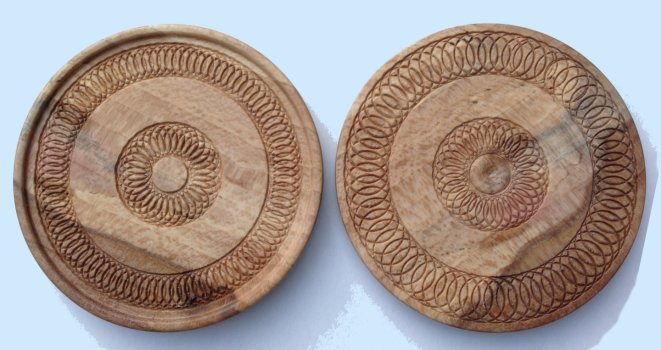 (click for close-up view)
---
(Thu 1st Oct) Attilio has emailed to report that although he has been kept occupied baking/making Italian dishes, he has found time to turn a thing or two.
A spiral vase in Lignum and a rollerball pen in Kiatt (South African name for Manunga; a type of Padauk)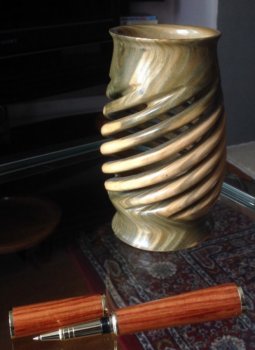 and a paddling of ducks
(click for close-up views)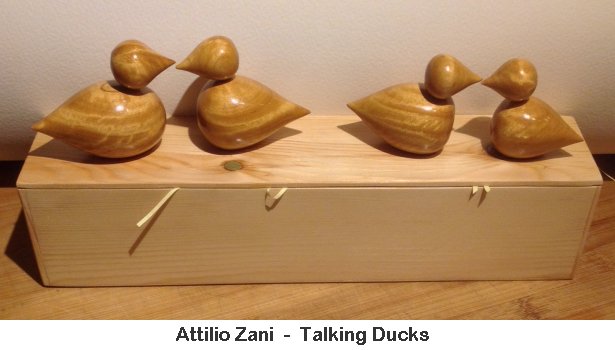 ---
(Thu 17th Sep) Trevor Elliott writes :
This project has been keeping me busy all lockdown.
It'll be nice if we can ever get back to normal.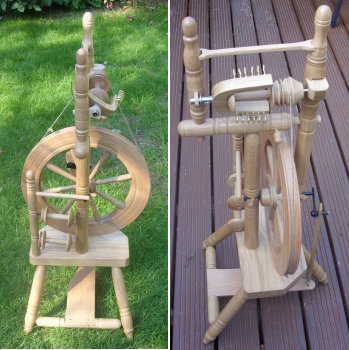 ---
(Thu 10th Sep) John Bolt has produced a beech platter with iridescent paint having been applied then spun on the lathe.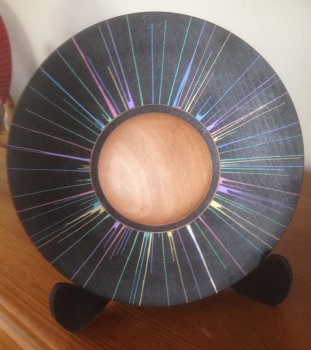 ---
(Sat 5th Sep) Alan Brooks reports again! :
This 'Bell Box' is taken from an article in Woodturning Magazine by Ian Woodford as a symbol of ringing the bell after a couple of friends beat cancer. This one is made from Bubinga (5" x 3") purchased from one of the club's table top sales and finished with Renaissance wax.
Small bell from 'The Range' fitted inside the lid but unfortunately doesn't ring as clearly as I anticipated so tweaked it for the video here = <BellBox>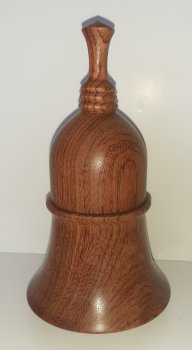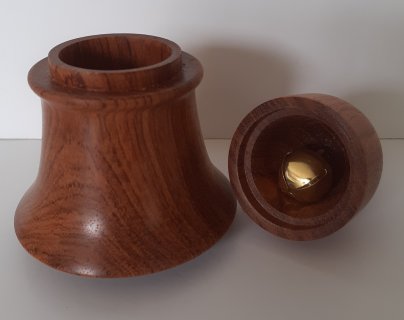 ---
(Tue 1st Sep) Alan Brooks reports :
These three boxes are approx. 4" x ½" and based on the work of Pat Carrol in the August edition of woodturning magazine. The trinket boxes are made from Lime and then engraved within the beads with a 3mm Dremel ball tool and then ebonised before being painted with Pebeo studio acrylic HV iridescent paint. I found them very time consuming in respect of what I normally turn and colouring isn't my thing so I probably won't be turning too many of these!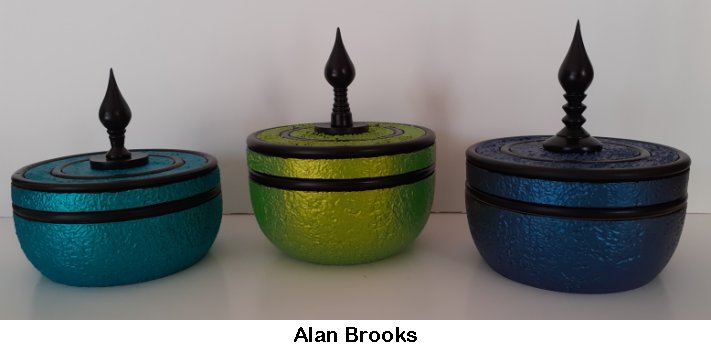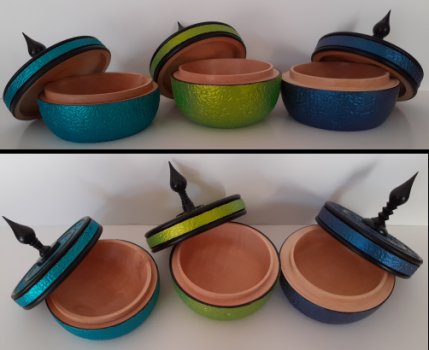 (click for close-up view)
Some more items made from the timber bought at the last club sale.
Natural edge bowl (8" x 1¼") from a piece of Yew. Another Yew rolled edge bowl (6" x 1½"). Finally a small bowl from a piece of Bay (4" x 1½").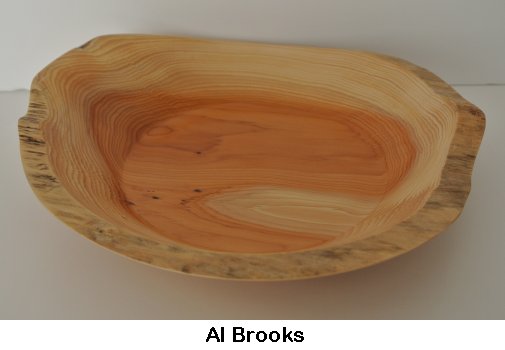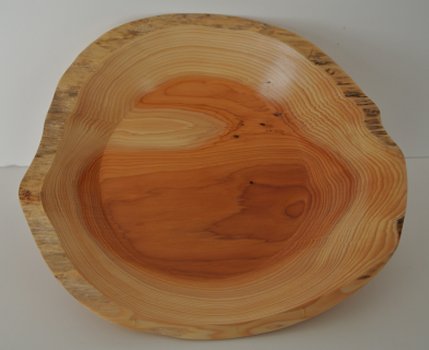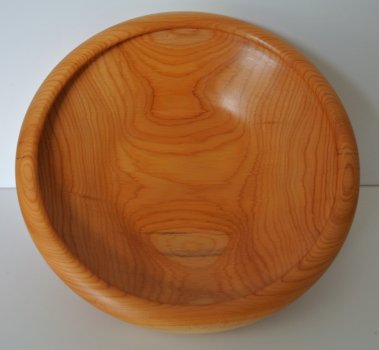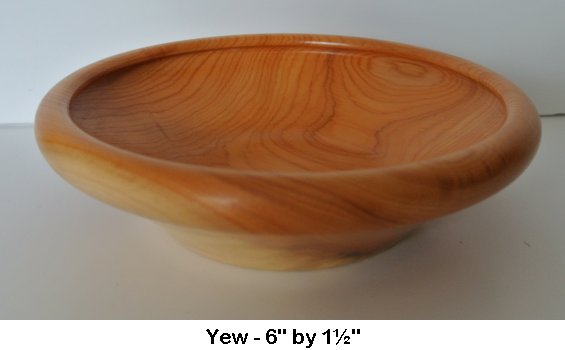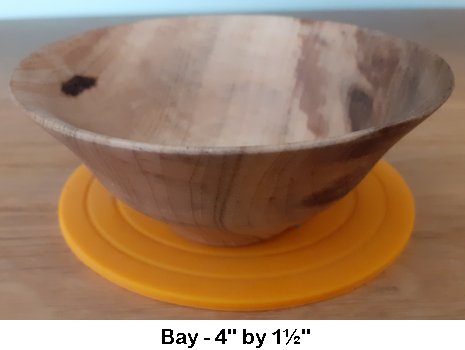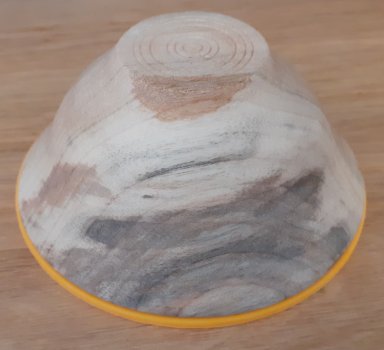 ---
(Wed 19th Aug) Andy Ogilvie writes :
Spalted Hornbeam pepper mill (190mm x 55mm dia) with Crushgrind mechanism inside. Decorated on Holtzapffel lathe. Each cut made by a semi-circular cutter spinning on its lateral axis, positioned using the 96 index. It was then sealed, the depressions coloured using acrylic paints, lightly sanded and then sprayed with semi-gloss lacquer.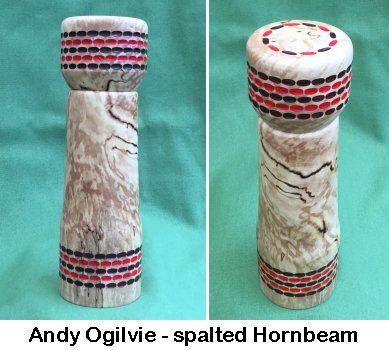 ---
(Fri 14th Aug) David Game writes :
I bought several natural edge bowl blanks of American Plane from Paul's recent wood sale.
This is the first one but unfortunately the bark came away.
It was finished with Danish Oil.
I'll have to see how the next one turns out.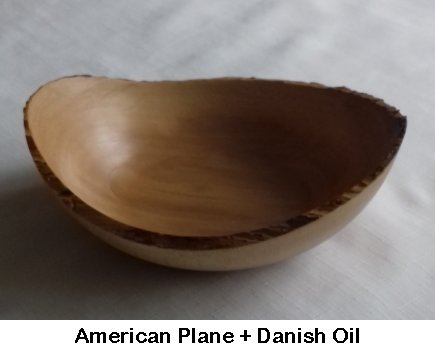 (click for close-up view)

With exam results out this week, I thought some 'Graduation Day' turnings would be appropriate.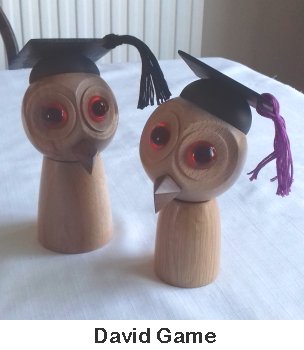 ---
(Wed 12th Aug) Vic Russell writes :
Something of a moot point really as we don't even have any Napkins!
However in the spirit of joining in, I braved the shed to make this.
It was intended to be decorated from the start but the contrast between the cross grain Sycamore and Bubinga looks so good I'm not sure I want to attempt anything further.
We shall see when the heat in the workshop subsides!
Made using Mike Peace's < technique on YouTube >.
Now I have the jam chuck I'll no doubt experiment further.
Meanwhile, I've entered this into Paul's Challenge,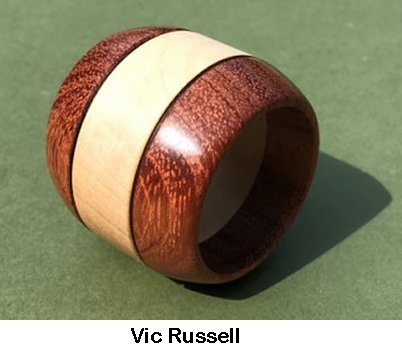 ---
(Mon 10th Aug) David Hamilton's mirror work isn't in vain.
It's a 20" tall Vanity Mirror made in one of his favourite woods, Ash, with reddish brown knobs of unknown timber hiding under his work bench! (click for larger)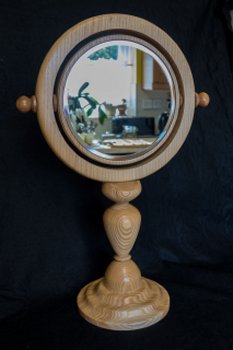 ---
(Thu 30th Jul) Alan Brooks has managed to transform some of his purchases from the wood sale within a few days. (click for larger)
---
(Tue 28th Jul) Peter Orr has been mixing wood turning with some carving :-
As well as being a member of Christchurch Woodturners, I am also a member of Alan Leagas's Wood Craft Club at Arnewood, Sway (previously Lymington Wood Carvers). The majority of the club are wood carvers while just a few of us are turners. There had been a gentle humorous urging that the turners should try some carving. My personal view was that carving took forever whereas turning got much quicker results. However, during the lockdown, I made a conscious effort to combine both disciplines. So I chose subjects that could be turned in the early phase and then carved to complete the project.
Hence the birth of the ice cream cone complete with chocolate flake.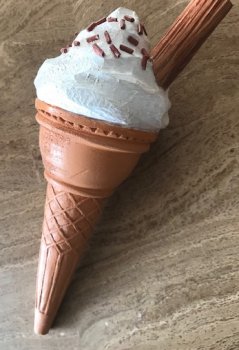 I followed that with the basic turning of a bun, leaving enough depth to carve a burger. I actually parted the bun about 2/3rd the way up allowing me to carve burger and cheese slice on the lower portion and lettuce and tomato on the top.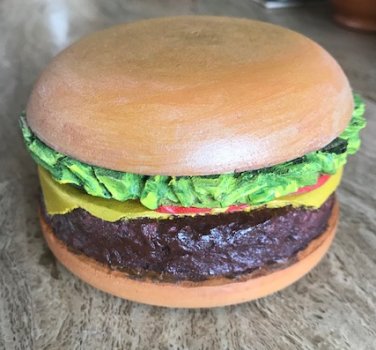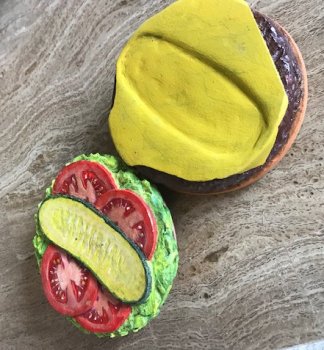 I painted both projects with acrylic paint and applied acrylic varnish to cheese and burger and then the tomato. I used a Dremel to remove wood quicker and then knives and chisels for more finesse. Hope you enjoy this insight to carving from a wood turner.
We are always looking for new members at Alan's and are gradually reopening with temperatures monitored and distancing adhered to.
Please contact me (Peter Orr) on 07736 328121 if you are interested.
---
(Mon 27th Jul) John Knowlton has completed a lockdown 'hollow form' project of beech & window wood comprising of a total of 302 individual pieces! (Click for a closer view)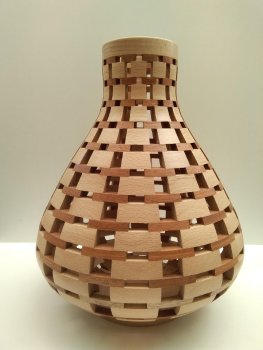 ---
(Sun 26th Jul) Andy Ogilvie was fascinated with the peculiar grain he found on a pine plank.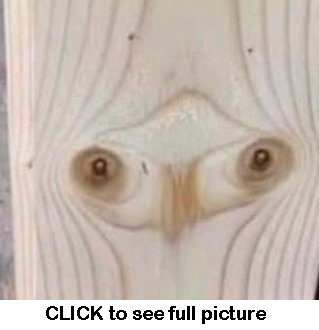 ---
(Mon 29th Jun) Paul & Greta Reeves have written :
We hope that you have all tidied up your workshops and are ready for your next quest!
How about having a go at turning an Acorn Box with either a push/pop on lid (or for those of you with thread chasers) a screw-on.
30mm to 50mm suggested size, with or without the stalk.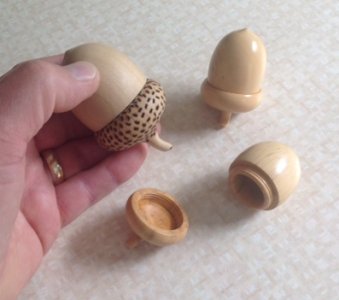 Then attach a picture to < HERE > to put up on this website.
It's just a bit of fun; no competition or judging involved.
---
(Tue 23rd Jun) John Bolt has submitted 3 more owls :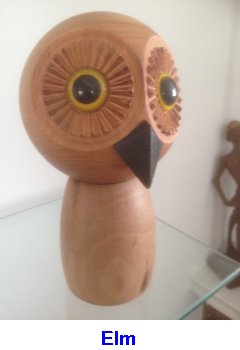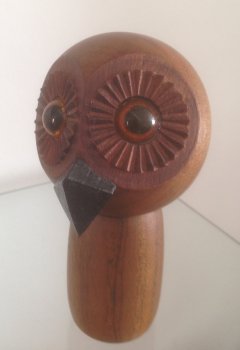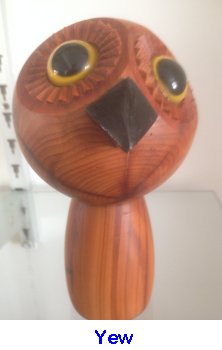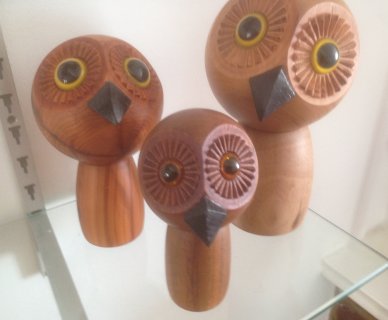 ---
(Tue 16th Jun) Rick Patrick writes :
The Club had received a commission request for 4 Belaying Pins for somebody's flag staff, complete with yard arm & gaff. With no one forward to volunteer their services after a few days, I agreed to have a go with some fruit wood I had in stock. I subsequently found (what I believed to be) a Jarrah plank, which if it was good enough for harbour piers and groynes, being left out in all weathers on a flag staff should be no problem.
I've had a few undistinguished attempts at copying turned pieces in the past so I knew how difficult it can be to get 4 identical pins.
Unfortunately, with the first one I turned, I crabbed the tool rest into the top of the handle so it became a little more oval ended than the rest but apart from that, I was pleased with the end result.
Each 'peg' was 25mm (±0.5) at the handle end with a slight taper to the bottom.
There was a similar slight taper with the handles themselves. I left them finished with 800 grit abrasive so that he could treat them with what he wanted.
I had an interesting dilemma in getting the commission to my punter.
We agreed to hand them over in the car park of Christchurch's Sainsburys in those days of heightened Covid precautions.
I parked and watched for the car he had described and when it came, I opened up my boot and laid the 'merchandise' out on the boot floor before retiring several yards away. The punter duly inspected the goods, gave a nod of approval, gathered them up, put them into his rucksack and left an envelope on the floor. I had waited for him to get out of the way, quickly picked up the envelope, shut the boot lid and drove off.
I started to think whether there was CCTV in that part of the car park; I wondered what the Drug Squad would have made of it.
I had a few sleepless nights waiting for a knock on my front door in the early hours of the morning!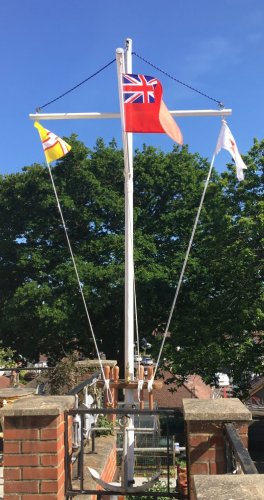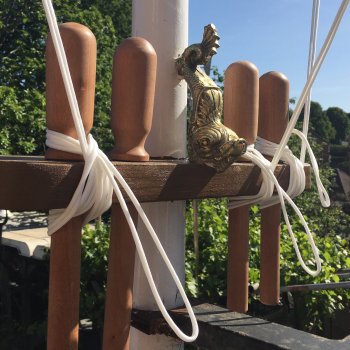 ---
(Thu 11th Jun) Vic Russell writes :
The question of whether you should take the tension off your Bandsaw Blades after use comes up from time to time. It just has on Facebook so I did a quick search. And found the following.
ALWAYS DE-TENSION YOUR BANDS
When you are done cutting for the day, take the tension off your blade. Band saw blades, when warmed up from cutting, always stretch; and upon cooling shrink by tens of thousandths of an inch each cooling period. Therefore, blades, when left on the saw over tension themselves and leave the memory of the two wheels in the steel of the band, which will cause cracking in the gullet. When you leave the band on your saw under tension, not only do you distort the crown and flatten out the tires (which makes them very hard), but you also place undue stress on your bearings and shafts. Believe it or not; you can, and will damage your wheel geometry sooner or later and considerably shorten bearing life. You are also crushing your tires or V-belts.

It's from here so I guess they should know!?
https://www.suffolkmachinery.com/index.html
Look under links, six rules of sawing then scroll down.

As a point of interest, I've always taken the tension off the blade after use as it's easily done on my bandsaw. I hope the information has been useful whether or not you follow it!
---
(Tue 26th May) Vic Russell writes :
For those that didn't get round to turning a miniature, you don't have to use small tools to turn them. It can be done with full size tools although I did use a detail bit I made some time ago. The rest was done with a 3/8 spindle gouge.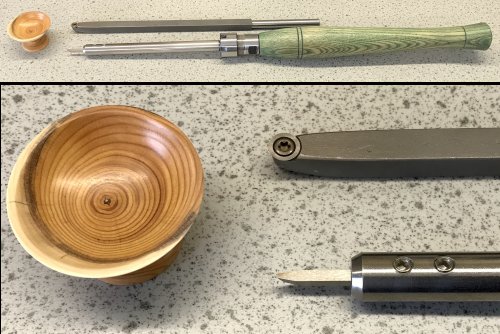 ---
(Sat 23rd May) Paul Reeves has written :
The wood store hasn't been this empty for years !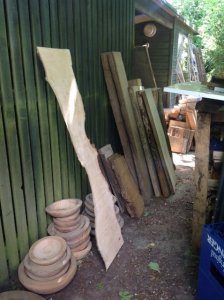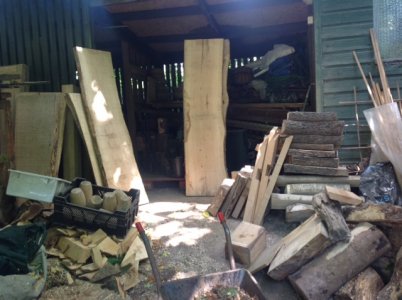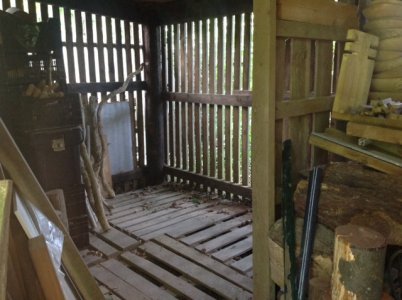 ---
(Sat 23rd May) Mark Codling has written :
Hi. Hope you are all okay in this stressful time ...
I've been quite busy. I got a load of beach, ash and oak recently and like to turn green wood for Treen. I'd rather the bowls are used than sat on a shelf (also I hate sanding)
Got to get that pole lathe sorted as I feel it's slightly cheating turning Treen on a powered lathe ...
Some had split but I think they improve with a bit of copper wire (very Japanese in spirit).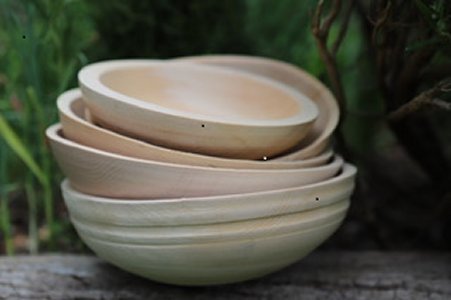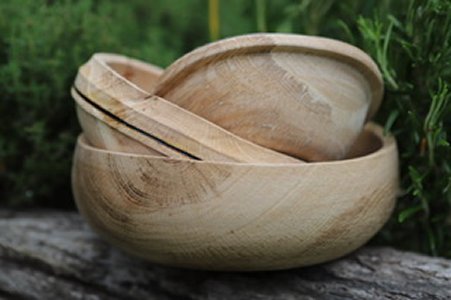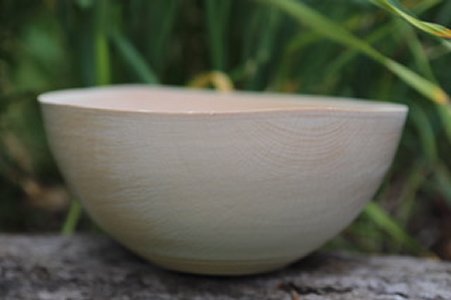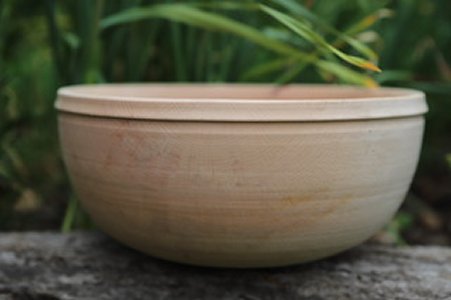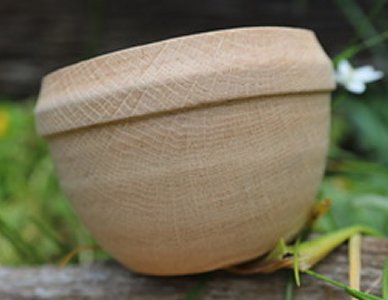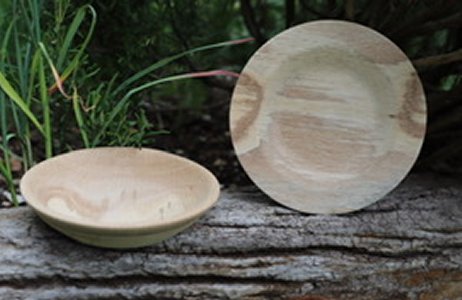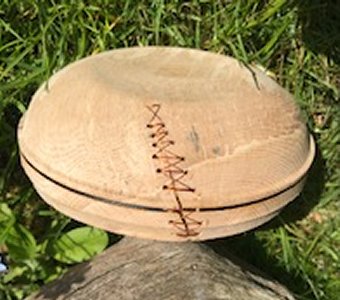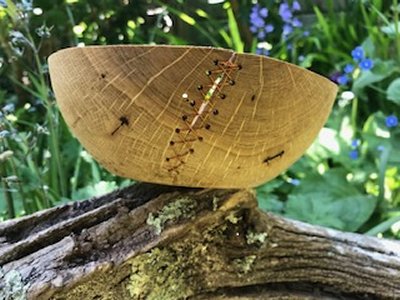 ---
(Mon 18th May) Vic Russell writes :
"I don't have any wall space for these types of tools so I used to keep stuff like this under the lathe. They used to get covered in shavings and dust though so I finally ended up putting them in a plastic tray. The tray soon got filled though and I'd "lose" stuff at the bottom. I then remembered I had a tote tray that was bigger so I transferred all the tools over. I still lost stuff though so then thought of adding a piece of ply with some holes drilled in it for the tools to sit upright and this is working out well."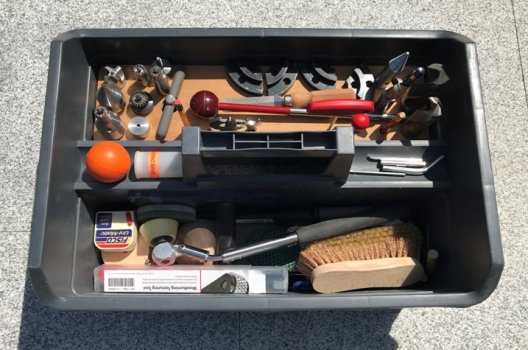 ---
(Mon 11th May) John Bolt has submitted a home-made Sphere-turning jig made from Corian,
with 3 examples of the finished work (all 80mm diameter) :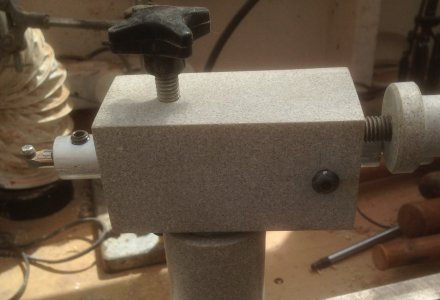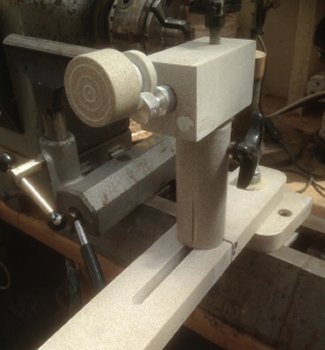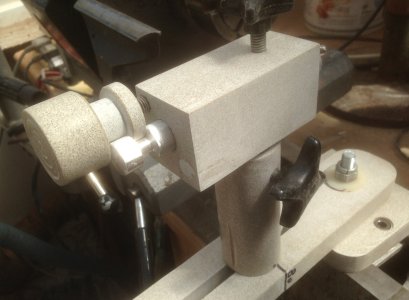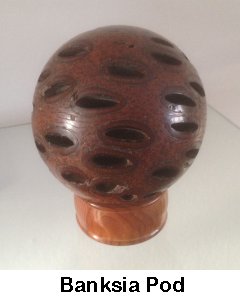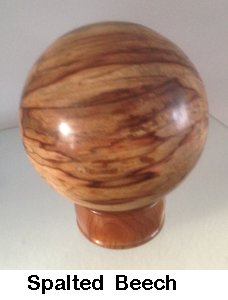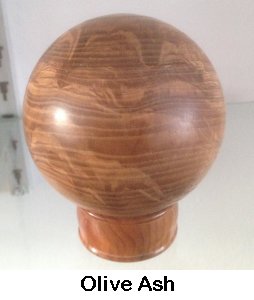 ---
(Thu 7th May) Paul Reeves has written :
Below is a photo of a Prisoner of War turned apple with tiny cups, plates and goblets etc. Turned in about 1946-7 and given to my grandparents as a thank you for their kindness. They arranged for several prisoners to leave the camp at Weekley and visit families in the Kettering , Northants area on Sundays so that they could attend church and then go for lunch and tea. My Father corresponded with and visited one man's family from near Stuttgart until he died in 2004. All the turning was probably done with a sharp nail and the wood held in a hand drill. A two man operation! They are made from boxwood (maybe from the Duke of Buccleugh's estate nearby as some of the men worked on the estate growing food etc.)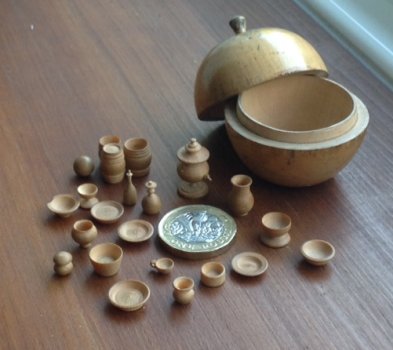 ---
(Wed 6th May) David Game has submitted something for the kitchen and something to wave on Thursday Nights to support the NHS.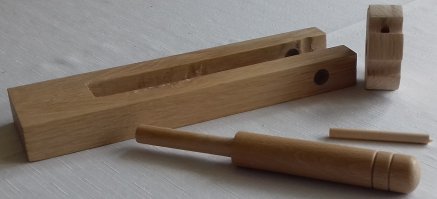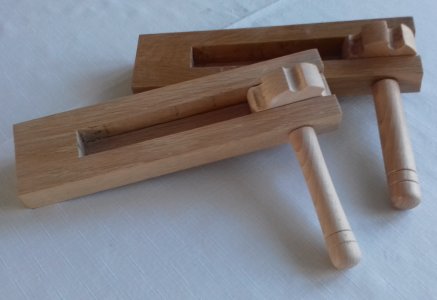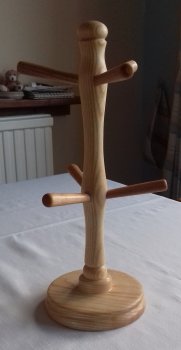 ---
(Thu 30th Apr) 'Problems with my lathe' by Rick Patrick:
I had found the speed control lever on my Axminster SL900 lathe was becoming progressively more difficult to move.
While searching Google for suggestions, I came across an Axminster 1998 publication stating that, "The motor and drive shafts should be periodically checked for build up of wood dust. We recommend that you remove the belt cover every six months in order to vacuum dust from the area and to lubricate the pulley system ... after removing the belt."
Whoops! I've owned this lathe for over 10 years after buying it from another Member. I would be most surprised if the belt cover had ever been removed in the past 14 years!
"Stop the machine on the slowest speed. Unplug power supply cable. Remove belt cover. Move speed selection lever to fast position. Remove the belt from the headstock shaft pulley, then slip the belt from the motor pulley. This pulley will now close together. If you wish to lubricate the headstock shaft pulley, now is the best time to do it. All that is required is to spray a PTFE dry lubricant BETWEEN the pulley halves. Move speed selection lever to "slow" position and spray the headstock shaft between the pulley and headstock casing."
Whoops again! That dust encrusted drive shaft had obviously absorbed moisture over the years and had corroded the metal shaft such that the speed selector had now become stuck rigid it in its fast position.
No alternative but to unscrew various circlips & grub screws and 'persuade' the individual halves of the pulleys off their slightly rusty shafts with a combination of a handmade U-shaped wedge of hardwood & an extractor.
Once I had worked out that the right hand pulley of the headstock was affixed to the shifting lever bracket so wouldn't comply with my misplaced encouragement of aforesaid wedge, the spindles swiftly became clean & smooth with some wire wool and elbow grease.
Assembly was a straight retrace of the above (although I managed to miss a grub screw and had to back step when the speed control would only move towards faster).
"To fit a new belt you will need to prise open the motor pulley, either with your finger tips or with a pair of medium flat bladed screwdrivers held on opposite sides of the pulley."
Having easily got the belt over the headstock pulleys in their 'fast' position, I found the spring on the motor shaft too strong for my fingertips, so opted for the screwdrivers. I just needed the pulleys a little more apart so just wiggled the screwdriver to move down towards the shaft when there was a 'ding' from a stressed & now broken pulley.
Oh bugg err, bother!
Fortunately, Axminster were able to supply a new pulley set via mail order so 3 days later I was back in business.
Some points to take away :
● There is a hole in the motor shaft for oil;
● Probably better to put the belt on the motor pulleys first as once in the right position, the belt will be better able to prise open those pulleys before passing over the headstock pulley set;
● I used a thin & wide wedge of boxwood to prise open pulleys after my mishap with the screwdriver;
● Align the grub hole of the speed selector shaft with the speed number '6' for getting the speed selecting lever in the right position of '1' SLOW and so misses impeding the on/off cover;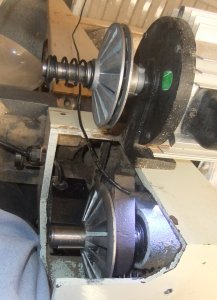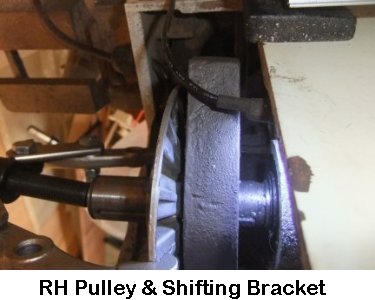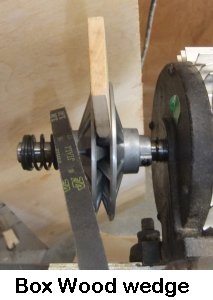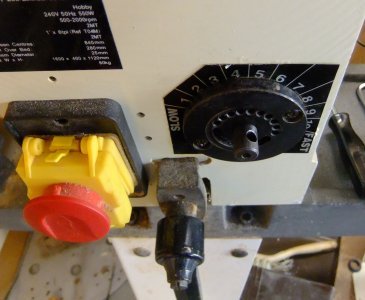 ---
(Thu 30th Apr) Alan Brooks has attached a couple of images of small bowls made from originally discarded wood: A shallow Oak dish and bowl from an Ash branch. Also tried a winged bowl from a piece of Cherry.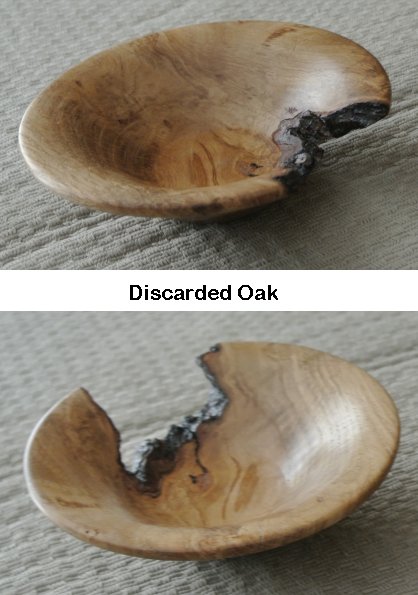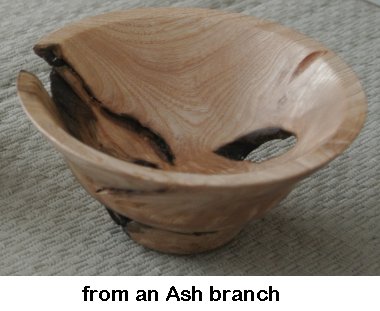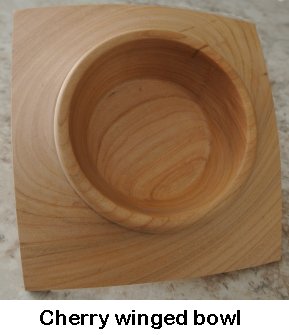 ---
(Wed 29th Apr) John Bolt has submitted 2 pens made with kits from Stiles & Bates and with acrylic infills.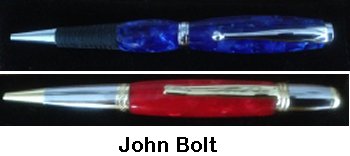 ---
(Fri 17th Apr) John Bolt has written :
Examples of offset spindle turning .
Hope you all are staying well.
(Tue 21st Apr) Ian Wright commented :
I like the 'im & 'er - very novel.
Regards the wine goblet - if, after a few, your glass looks like this, it's time to stop drinking!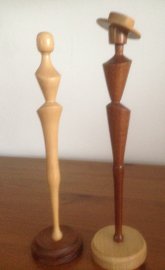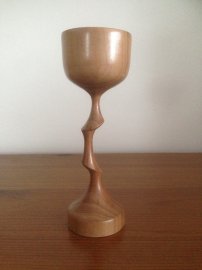 ---
(Sat 11th Apr) Paul Reeves has written :
This morning's project was Hornbeam, some spalted, and a bit of spalted silver birch. Two nice natural edge vase blanks as well.
Now it's just the sawdust to tidy up.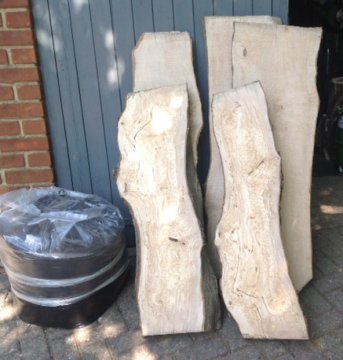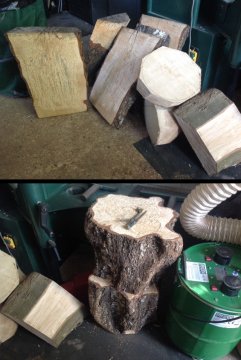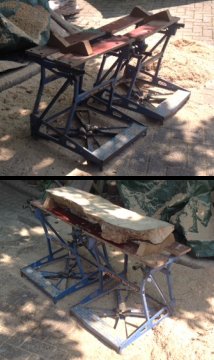 ---
(Sat 11th Apr) A top tip from Terry Miles :
A tip from my good friend Vic Russell: if you need something soft to secure an odd shaped piece while sanding or finishing, a squash training ball is just the job. They can be had for a couple of pounds from eBay, provided you don't mind the three week wait from China.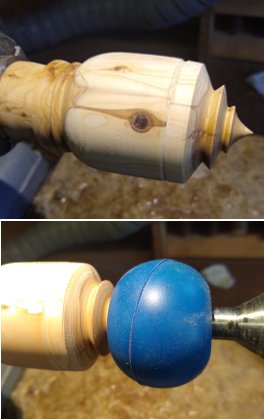 ---
(Thu 9th Apr) Paul Reeves has written :
This lawn edger was broken at work a few days ago so I brought it home for the blade to be fitted with a new shaft. The ash used for the original handle was very brittle and soft so I found a nice solid piece of ash for the replacement. The shaft is 30" long and turned without a steady. Finished with a coat of hard wax oil.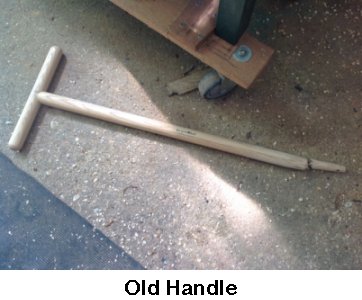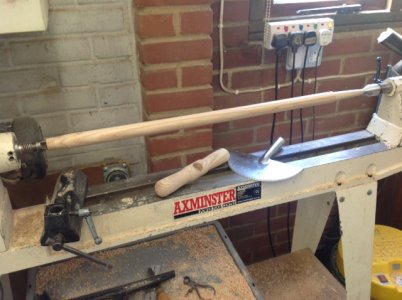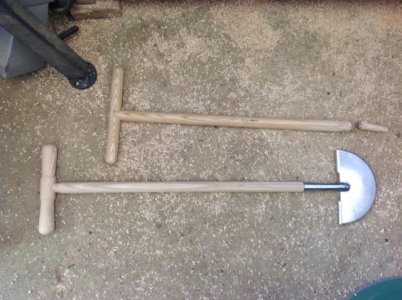 ---
(Thu 9th Apr) John Bolt has added a new cocobola mini helmet to his collection.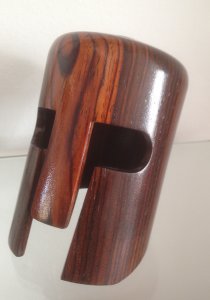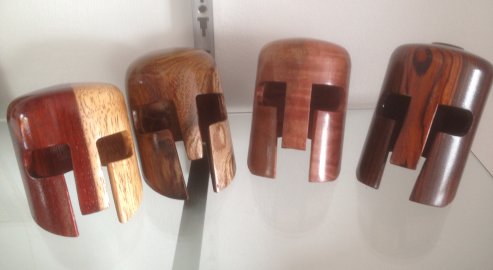 ---
Paul Reeves wrote on Saturday, 4th April :
We were going to be stuck in all weekend with nothing much to do so we have been cutting down trees today. Three self-sets that were 20' high growing in the border next to where Greta parks the TT. I meant to take them out when they were 5' high!!!! 2 beech and an ash.
Also the big dead oak with the seat round it is no longer vertical with some to be milled tomorrow. I don't think it would have been too long before it fell over anyway. Let's hope that the Duster will haul it out of the hole.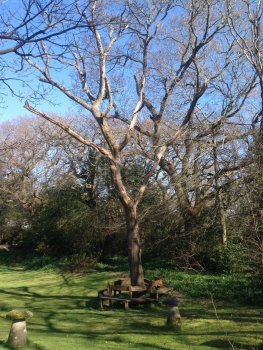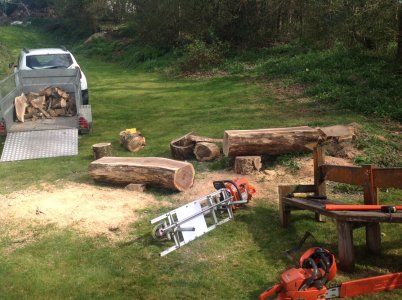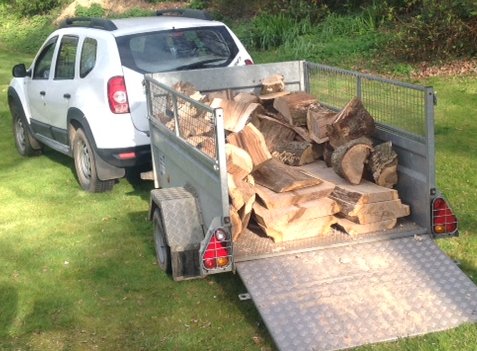 (Looks like fresh supplies for the Club Wood Sale in a year or two)
---
Vic Russell writes :
"Not Woodturning I know but as some may be aware, there's a fad on FaceBook at the moment for making Squirrel tables from scraps of wood!
This is my attempt."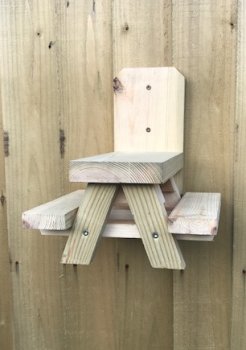 (I remember watching TV programmes with squirrels working with tight ropes, hoop jumping and pulling sticks out of a maze to release some food. How's Vic's picnic table going to test them. Oh --- hang on a minute. How high is this table off the ground?)
---
For info :
Below is a graph illustrating the time we spend looking at exponential graphs (Terry Miles)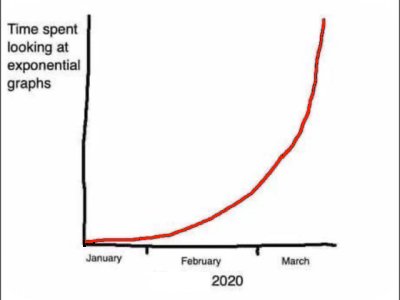 ---
Beware...
Your webmaster has just received the following attachment in an email sent to the CSW's Coronavirus email address and slipped through my anti-virus software!
Please view at least 2 metres from the screen, stay at home & stay safe.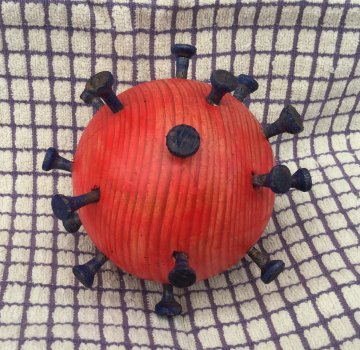 ---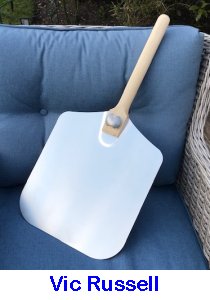 As we started making our own Pizza's a while back, I bought a Pizza Peel for getting them into and out of the oven. The metal blade was ok but the rectangular section wooden handle was useless so I turned this today. A simple job for what is fast becoming an essential kitchen tool!
---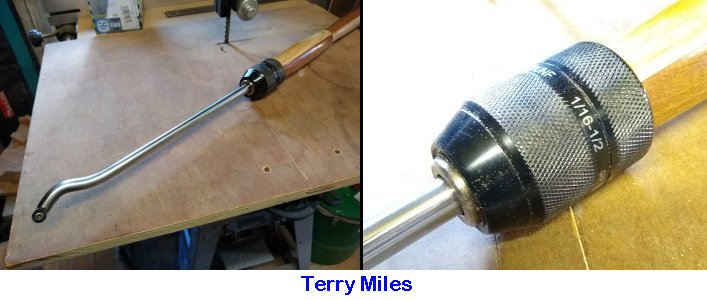 Some Members might remember the laminated stool that I made for my granddaughter and entered into the 'spindle and faceplate' turned competition. I had some offcuts left over from the legs and made a handle from them.
The keyless chuck was only £6 or so from China but works really well.
---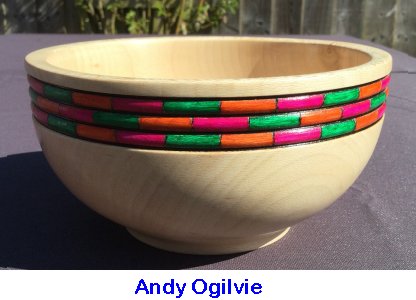 This bowl was rough turned from a chunk of Plane last June and finished last week with a decorative band using a mix of beading, pyrography and spirit pens to achieve the result. Additionally, I've clearly got more time on my hands than I care to admit so have a go at this Horizontal Crossword with answers all relevant to woodturning. Regards, Andy Ogilvie. < CROSSWORD >
(Send completed crossword back to the Webmaster and I'll keep a score of who has succeeded or give you a clue if you went wrong)
---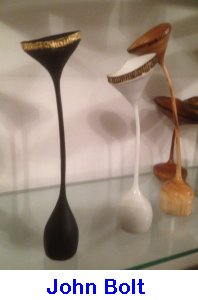 More podlets from John Bolt in black, white & natural.
---
Following Paul's demo on offset spindle turning, I enclose pictures of a candle holder which I started a year or so ago and just completed as a rounded triangular spindle type.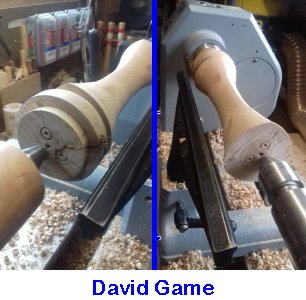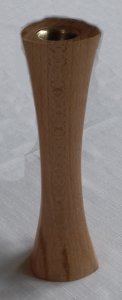 I also made a rabbit box this month in time for Easter. David Game.
(Nice to see how you did it - RP)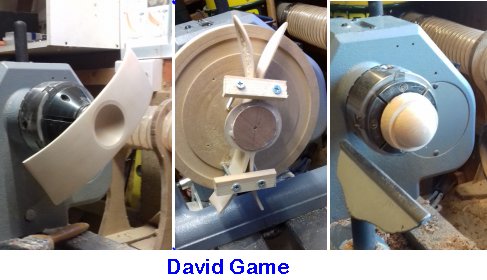 ---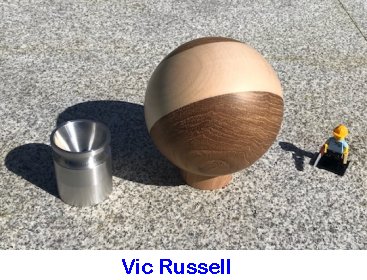 I turned this on my sphere jig the other day.
5" diameter in sycamore and a couple of other hardwoods, one possibly walnut.
Lego Carpenter for scale!
... also in the picture, a new cup chuck I made to fit my OneWay live centre to support the ball when sanding.
Vic.