< Coronet Minor Lathe >
< Thread Chasers >

❶ Dear Members,
I had been a member of Christchurch Woodturners for many years but retired from the club in 2010.
I have used the lathe below since then but the time has come to 'downsize' and it has to go....
It is in good condition and has been carefully used and maintained over my 25 years of ownership.
It comprises:-
Coronet Minor Lathe. (30" bed; 2-speed 650 & 2000 rpm; Swivel head for bowl turning and rests for this)
Sitting on its own bench.
Circular saw attachment (never used by me)
Instruction book.
Short and long rests.
Face visor.
Tools: Bowl gouges, skew chisels, special tools, small tools. (30 tools in total)
Adjustable lamp.
Four jaw chuck with different size jaws.
Bowl blanks of various woods.
Books on woodturning.
Modest price for all the above £150.

Contact me at williampetts@tiscali.co.uk or 01425 501446
Best regards,
Bill Petts
(Jul20)
Click photo for larger image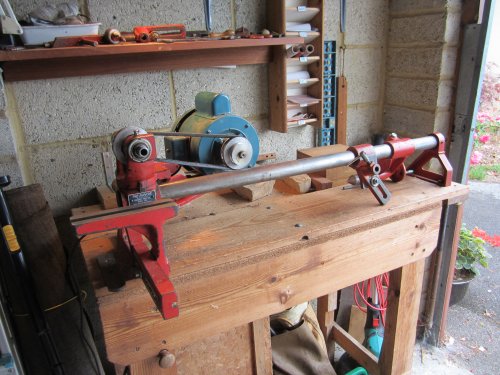 (back to top)
---
❸ Pairs of hand thread chasers, suitable for cutting threads into wood, are available in the following tpi (threads per inch).
I have multiples of some of these sizes.
7. 8. 10. 11. 12. 14. 16. 18. 19. 20. 24. 25. 26.
All are Whitworth thread.
Price £10 per pair.
Please contact Paul Reeves at the telephone number on your membership card or through this button

. (Aug20)
(back to top)
---
The Small Print
The Christchurch Society of Woodturners cannot be held responsible for any mis-representation, or errors of print, howsoever caused, and related to any advertisement published on this page.
Please read our Terms & Conditions